Posted By Claire on August 25, 2016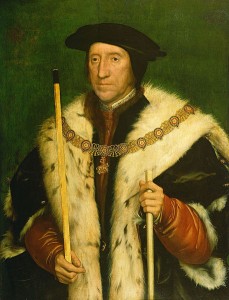 On this day in history, 25th August 1554, Thomas Howard, 3rd Duke of Norfolk, magnate, soldier and uncle of Queens Anne Boleyn and Catherine Howard, died of natural causes at his home of Kenninghall in Norfolk. He was laid to rest in St Michael's Church, Framlingham, Suffolk.
Thomas Howard was the eldest son of Thomas Howard, 2nd Duke of Norfolk, and of Elizabeth Tilney. Howard's father and grandfather had fought on Richard III's side at the Battle of Bosworth but Howard was able to work his way back into royal favour by fighting for the Crown against both the Cornish rebels and the Scots in 1497. He was made a Knight of the Garter in 1510, was created Earl of Surrey in 1514 and succeeded his father as Duke of Norfolk in 1524. In September 1514 he was prominent in leading the English army in defeating the Scots at the Battle of Flodden.