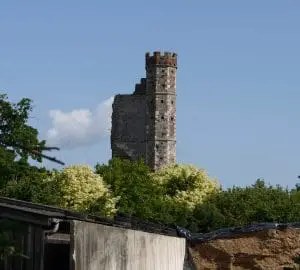 A warm welcome to Susan Higginbotham who is joining us today as part of the book tour for ler latest book, a biography: Margaret Pole: The Countess in the Tower. Here is an extract from her book and you'll find details of her book at the bottom of this post.
Naturally, Margaret did not confine herself to one residence or spend time at all of her estates; rather, she spent most of her time at Clavering in Essex, Bisham at Berkshire, Le Herber in London, and Warblington in Hampshire. . .
Nothing remains of Warblington Castle but a gatehouse turret, built in brick and stone. It is particularly irksome that the castle, dismantled during the Civil War, lies in ruins, for unlike Margaret's other primary residences, it was built to her specifications–indeed, as John Goodall wrote in The English Castle, it was the 'only castle of the English Middle Ages unambiguously created in its entirety by a female patron'. The written record, however, offers us a glimpse of the castle as it appeared in its glory days. In 1632, its current owner had it surveyed by William Luffe, who reported:
The site of the principal Manor House of Warblington is a very fair place, well moated about, built all with bricks and stones, and is of great receipt, built square, in length 200 feet and in breadth 200 feet, with a fair green court within, and buildings round the said court, with a fair gallery and divers chambers of great count, and four towers covered with lead, with a very great and spacious hall, parlour, and great chamber, and all other houses of office whatsoever, necessary for such a house, with a very fair chapel within the said house, and the place covered all with tiles and stones ; and there is a fair green court before the gate of the said house, containing two acres of land, and there is a very spacious garden with pleasant walks adjoining, containing two acres of land, and near to the said place, groves of trees containing two acres of land, two orchards and two little meadow plots containing eight acres, and a fair fishpond near the said place, with a gate for wood and two barns, one of five bays the other of four bays, with stables and other outhouses.
Margaret filled her castle (described as a 'new building' in accounts of 1517-18) with fine goods and furnishings. An inventory of 1538 shows such items as seven hanging tapestries showing Ulyssess' journey and nine depicting the discovery of Newfoundland. Margaret's coat of arms appeared on cushions, on a red sumpter cloth, and a piece over the chimney; the king's arms were also represented in five banqueting dishes of glass. For the musically inclined, there were several pairs of virginals. Carpets from Turkey and Flanders, hung on the windows, kept out the cold. The counterpane that was on Margaret's own bed was not deemed worthy of description by those taking the inventory, but a counterpane in a bedchamber within Margaret's own chamber had 'great borders with flowers and beasts'. Margaret or her staff could keep her accounts at a little desk for 'writings and reckonings for household and other things'. Perhaps the little coffer 'with silk for to set the young at work' had been used by Margaret's daughter or granddaughters. Court rolls and evidence were found in a coffer covered in seal skin. Books, their titles unrecorded, were found along with pillows, linen, and glass. There was no shortage of plate, including a gilt cup decorated with a portcullis and roses, a salt cellar of gold garnished with stones and pearls, a salt of gold with a cardinal hat in the top, a spoon with an angel at the top, a silver-and-gilt standing cup with a man at the top, a silver-and-gilt standing cup with St. John the Baptist at the top, and a silver-and-gilt cup with nothing at the top.
It took considerable staff to run Margaret's large household. In 1538, she had a steward, a comptroller, three chaplains, six gentlemen waiters, two clerks of the kitchen, six yeomen of the chamber, two men who served as marshall of the hall and as usher of the hall, two men in the pantry, two men in the butlery, two men in the ewery, two men in the wardrobe plus a third at Bisham, two porters, two grooms of the chamber, three cooks, two bakers, a slaughterman, a cater, a tyler, a brewer, three boys of the kitchen, a housekeeper, a man who worked in the scullery, an almoner, a laundress, ten gentlemen servants, and a man who was 'found of alms'. Bringing up the end of the list was an unnamed fool. Whether he was an 'innocent', that is, a person who was intellectually disabled or mentally ill, or an artificial fool, that is, an entertainer, is unknown, but clearly his presence indicates that the household of the aging countess was not a gloomy one.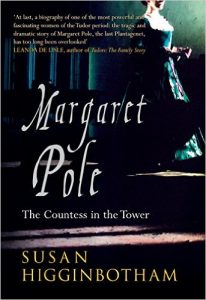 Book Details:
Hardcover (and kindle): 240 pages
Publisher: Amberley Publishing (15 Aug. 2016)
Language: English
ISBN-10: 1445635941
ISBN-13: 978-1445635941
Available from Amazon.com, Amazon.co.uk and your usual bookstore.
Of the many executions ordered by Henry VIII, surely the most horrifying was that of sixty-seven-year-old Margaret Pole, Countess of Salisbury, hacked to pieces on the scaffold by a blundering headsman.
From the start, Margaret's life had been marred by tragedy and violence: her father, George, Duke of Clarence, had been executed at the order of his own brother, Edward IV, and her naive young brother, Edward, Earl of Warwick, had spent most of his life in the Tower before being executed on the orders of Henry VII.
Yet Margaret, friend to Katherine of Aragon and the beloved governess of her daughter Mary, had seemed destined for a happier fate until religious upheaval and rebellion caused Margaret and her family to fall from grace. From Margaret's birth as the daughter of a royal duke to her beatification centuries after her death, Margaret Pole: The Countess in the Tower tells the story of one of the fortress's most unlikely prisoners.
Photo: Photo of the tower that is part of the the remains of Warblington castle, photo by Geni, Wikimedia Commons.