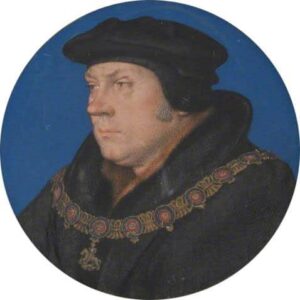 On this day in history, 29th June 1540, nineteen days after his arrest, a Bill of Attainder was passed against Thomas Cromwell, Earl of Essex, and King Henry VIII's former right-hand man.
The Journal of the House of Lords records on Tuesday 29th June 1540, day 81 of that parliament, the following:
"Item Billa Attincture Thome Cromwell, Comitis Essex, de Crimine Heresis et Lese Majestatis, per Communes de novo concepta; et assets. et simul cum provisione eidem annexa."
This Latin record means that Thomas Cromwell, Earl of Essex, was attainted by Parliament for the crimes of heresy and Lèse-majesté (high treason). He was stripped of his honours and condemned to death.
Thomas Cromwell, a man who had risen from humble beginnings in Putney to be Chancellor of the Exchequer, Master of the Rolls, principal secretary to the king, Lord Privy Seal, Lord Great Chamberlain, Vicegerent in Spirituals, and Earl of Essex, was beheaded on 28th July 1540, the same day that King Henry VIII married his fifth wife, Catherine Howard.
You can read more about Cromwell's meteoric rise, and dramatic fall, in my article on his arrest – click here. I'd also recommend Teri Fitzgerald's article on Thomas Cromwell the family man.
Also, on this day in history…
1509 – Lady Margaret Beaufort, grandmother of Henry VIII and the matriarch of the Tudor dynasty, died at Cheyneygates, the Abbot's house at Westminster. Click here to read more.
1536 – Thomas Boleyn, Earl of Wiltshire, was stripped of his office of Lord Privy Seal. Click here to read more.
1537 – Death of Henry Algernon Percy, 6th Earl of Northumberland, a man who had been romantically linked to Anne Boleyn before her relationship with Henry VIII. Click here to read more.
Notes and Sources