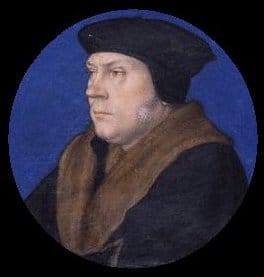 On this day in history, the 10th June 1540, Thomas Cromwell was arrested at a council meeting. All had been going swimmingly for Cromwell until the Anne of Cleves debacle. Who could have known that a lady from Flanders would be his undoing?
The Rise of Thomas Cromwell, Earl of Essex
Thomas Cromwell rose from humble beginnings in Putney in 1485 to be the King's right hand man by 1532. The keys to his success were his education (he studied law and was fluent in French, Italian and Latin) his employment by Cardinal Thomas Wolsey and the patronage of a certain Anne Boleyn in the 1530s.
When Cardinal Wolsey fell from favour and then died in 1530, it was Cromwell to whom the King turned for advice regarding his wish to annul his marriage to Catherine of Aragon and marry his new love, Anne Boleyn, and it was Cromwell who helped make the King's wish come true. He was also Henry VIII's "genie" when the King tired of Anne Boleyn and wanted rid of her. Nothing was beyond Cromwell, he just waved his magic wand (or whatever a genie uses) and – pouf! – Anne Boleyn was gone, and gone forever, he'd even got rid of her supporters too! Not only that, he also helped the King fill the royal coffers by presiding over the Dissolution of the Monasteries. What more could a king want?
When we look at the many titles bestowed on Cromwell, it is clear that he was THE royal favourite in the 1530s and the King's right hand man – Chancellor of the Exchequer, Master of the Rolls, Secretary, Lord Privy Seal, Lord Great Chamberlain, Vicegerent in Spirituals and Earl of Essex. Phew! What a meteoric rise! But, they say that pride comes before a fall, and what a long way to fall, Master Secretary.
The Fall of Thomas Cromwell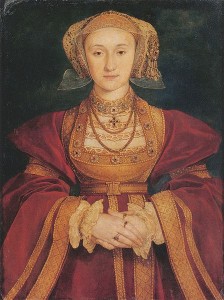 After the death of the King's third wife, Jane Seymour, in October 1537, Thomas Cromwell was itching to use his magic wand again and help the King find the ideal fourth wife and also provide England with a useful ally against Charles V, Holy Roman Emperor. Pouf! Cromwell found the ideal candidate, Miss Cleves 1539 – Anna von Jülich-Kleve-Berg, sister of William, Duke of Jülich-Cleves-Berg. Court artist, Hans Holbein, was sent to paint a portrait of Anne of Cleves, and Henry obviously liked the look of her because he entered into a marriage treaty on the 4th October 1539. However, all went rather pear-shaped when Henry met Anne on her arrival in England, the King was not impressed. He ordered Cromwell to find a way to get out of the impending marriage without wrecking relations with Cleves, but Cromwell had lost his magic touch, his wand had lost its power and he failed the King.
On the 6th January 1540 King Henry VIII married Anne of Cleves but after the wedding night Henry told Cromwell: "I liked her before not well, but now I like her much worse", and told of how he could not bring himself to consummate the marriage. It appears that Cromwell lived in hope that the King would learn to love Anne, or at least tolerate her, but this did not happen and the King blamed him for the unhappy union.
The King's unhappiness and disillusion allowed Cromwell's opponents to rise up against him and push for his fall. They could never have moved against Cromwell when he stood high in royal favour, but he had failed the king and the king was not willing to protect him. At a council meeting on the 10th June 1540, a group led by the Duke of Norfolk got Cromwell arrested and he was taken to the Tower of London. An Act of Attainder was used against him, meaning that he had no trial in which to defend himself, but he was kept alive until the Cleves marriage could be annulled on the grounds of non-consummation. He was executed on the 28th July 1540 at the Tower of London and suffered an awful end with a botched execution. It is said that it took three blows to finish him. A sad end to a life full of glory.
As per usual, while his friends (or wives!) were coming to brutal ends, the King was out enjoying himself. This time, he was getting married to wife number 5, Catherine Howard.