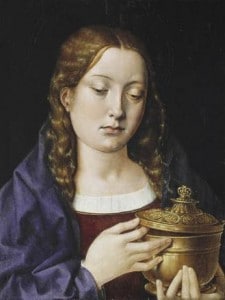 On this day in history, 11th June 1509, the new king, Henry VIII, married his brother's widow, Catherine of Aragon, nearly 6 years after they had originally been betrothed. The marriage took place in a private ceremony in the queen's closet at Greenwich Palace in front of two witnesses: Lord Steward Shrewsbury and groom of the privy chamber, William Thomas. As soon as the wedding was over, preparations began in earnest for the double coronation of King Henry VIII and Queen Catherine.
Catherine of Aragon
Catherine of Aragon was born on the 16th December 1485 and was the youngest surviving child of the Spanish Catholic monarchs, Ferdinand II of Aragon and Isabella I of Castile. It is interesting to note that she had a strong claim to the English throne as she was descended from John of Gaunt, 1st Duke of Lancaster and son of Edward III. She did not have the typical dark Spanish looks, instead she had blue eyes and auburn or strawberry blonde hair, and was said to be a great beauty. When she arrived in England in 1501 to marry Prince Arthur, heir to the throne, Thomas More said of her:-
"Ah, but the lady! Take my word for it, she thrilled the hearts of everyone: she possesses all those qualities that make for beauty in a very charming girl. Everywhere she receives the highest of praises; but even that is inadequate."1
Bride and Widow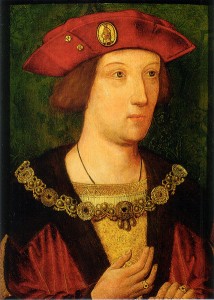 On the 14th November 1501 the 15 year old Catherine of Aragon married the 14 year old Arthur, Prince of Wales, son of King Henry VII, at St Paul's Cathedral. The couple were then sent to Ludlow Castle in the Welsh Marches so that Arthur could begin his duties as Prince of Wales but within months both Catherine and Arthur became ill with what is thought to have been sweating sickness. Although it looked like both of them would die, Catherine recovered but only to find that Arthur had died on the 2nd April 1502. In an effort to keep Catherine's dowry, Henry VII, who had recently been widowed, started negotiations to marry Catherine himself but her mother, Isabella I of Castile was horrified and Henry was forced to drop the plans. Instead, he decided to start negotiations to marry Catherine off to the new heir to the throne, Prince Henry.
On the 23rd June 1503 a marriage treaty was signed and Catherine and Prince Henry became betrothed at a ceremony on the 25th June. It was planned that a proper marriage ceremony would take place on Henry's 15th birthday, the 28th June 1506, which would give England and Spain chance to get a papal dispensation to allow the couple to marry. In the summer of 1504, the Pope showed that he was willing to grant the dispensation but shortly after Isabella received it in November 1504 she died.
Isabella's death was a huge blow to Catherine, not only because she was her mother but also because, to Henry VII, "Catherine the daughter of Ferdinand of Aragon was a much less attractive proposition as a daughter-in-law than Catherine the daughter of the Catholic kings of Spain". Catherine's father, Ferdinand, was not the heir to Castile. Henry VII therefore discouraged his son from the union and on the 27th June 1505, the day before the marriage was meant to be solemnized, Prince Henry repudiated. Poor Catherine was left in an impossible position: her father did not want her to return to Spain but, as she was no longer marriage material, Henry VII had cut off her allowance. Catherine had no choice but to remain in England, live in virtual poverty and just hope that things would turn out right. Things got better when her father appointed her as a Spanish ambassador but she had to wait until her knight in shining armour came to rescue her in 1509 for things to be right again.
Bride Again
On the 21st April 1509, King Henry VII died and his son, Prince Henry, became King Henry VIII. Overnight, Catherine's fortunes changed and although the Spanish envoy, Fuensalida, reported on the 24th April that he had "been told that a member of the king's council has said that [the marriage] is unlikely because from what they know of Henry it would burden his conscience to marry his brother's widow"2, the marriage negotiations, which had been dragging on since 1502 were brought to a successful end in May 1509. On the 8th June, the Archbishop of Canterbury, William Warham, issued the marriage licence and the couple married on the 11th June.
The Wedding
Catherine of Aragon married Henry VIII, her knight in shining armour, on the 11th June in the Queen's closet at Greenwich Palace. According to the Calendar of State Papers, Spain, the formal words used by the couple at the ceremony were:-
"Most illustrious Prince, is it your will to fulfil the treaty of marriage concluded by your father, the late King of England, and the parents of the Princess of Wales, the King and Queen of Spain ; and, as the Pope has dispensed with this marriage, to take the Princess who is here present for your lawful wife?
The King answered : I will.
Most illustrious Princess, &c. (mutatis mutandis).
The Princess answered : I will."3
Catherine was 23 years of age and Henry was just about to turn 18. Although she had suffered much hardship since the death of Prince Arthur, she was still a beauty, and Henry VIII was in his prime. The Spanish ambassador had said of Henry, when he was Prince of Wales: "There is no finer youth in the world than the prince of Wales" and it is known that he was over six feet in height and long-limbed. Alison Weir, in her book "The Six Wives of Henry VIII" describes Henry as:-
"A man of great physical beauty, above the usual height, being around 6'3″ tall… He was magnificent to look at, being lean and muscular, with an extremely fine calf to his leg of which he was inordinately proud, and had skin so fair that it was almost translucent; we are told that it glowed, flushing a rosy pink after the King had exercised."4
Here are some contemporary descriptions of King Henry VIII:-
"The King tilted against many, stoutly and valorously. According to their own observation and the report of others, King Henry was not only very expert in arms and of great valour, and most eminent for his personal endowments, but so gifted and adorned with mental accomplishments, that they believed him to have few equals in the world. He spoke English, French, and Latin, understood Italian well, played on almost every instrument, sang and composed fairly, was prudent, sage, and free from every vice, and so good and affectionate a friend to the Signory, that no ultramontane sovereign ever surpassed him in that respect."5
"The personal beauty of the King is very great, as Foscari doubtless has been informed by his brother, the Lord Frederick. He is also courageous, an excellent musician, plays well on the harpsichord, is learned for his age and station, and has many other endowments and good parts. Two such courts and two such Kings as those of France and England have not been witnessed by any Venetian ambassador for these 50 years, as is attested by the Magnifico Pietro Pasqualigo, who extols everything usque ad astra."6
A Venetian diplomatic visiting the English Court said of Henry VIII:-
"His Majesty is the handsomest potentate I ever set eyes on; above the usual height, with an extremely fine calf to his leg, his complexion fair and bright, with auburn hair, combed straight and short in the French fashion, and a round face so very beautiful that it would become a pretty woman, his throat was rather long and thick."
As you can see, Henry was quite a catch and at this stage he was quite the "Virtuous Prince", a Renaissance man who wanted to change England for the better and live with his beautiful new wife for ever. Who could have known at this piont that the marriage would end unhappily 24 years later and that this man would turn into a monster who would wreck the lives of six wives, his friends and members of his court?
Anyway, this day in 1509 was a happy day for the royal couple so let's remember them that way.
Notes and Sources
E.F. Rogers, ed., Thomas More Selected Letters, 2-3, quoted in Henry Virtuous Prince, David Starkey, p143
Correspondencia de Fuensalida, 516, quoted in Starkey
Calendar of State Papers, Spain, Volume 2, 17
The Six Wives of Henry VIII, Alison Weir, p72
Calendar of State Papers Relating to English Affairs in the Archives of Venice, Volume 2, 614
Ibid., 624