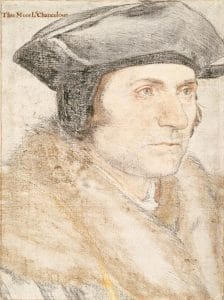 Sir Thomas More once said of King Henry VIII that "if my head would win him a castle in France, it should not fail to go" and I often wonder how serious he was. Was it said in jest or did More know exactly what Henry VIII was capable of? It's impossible to know, but his closeness to the king did indeed cost him his life.
On this day in history, 1st July 1535, Sir Thomas More, Henry VIII's former chancellor, was tried for high treason by a special commission of oyer and terminer. He was found guilty and sentenced to a full traitor's death to be carried out at Tyburn, although this was commuted to beheading on Tower Hill. He was executed on 6th July 1535.
You can find out more about the trial and what exactly Sir Thomas More did, or didn't do, to be accused of treason, in my article from last year – click here.
More was beatified on 29th December 1886 by Pope Leo XIII and then canonised on 19th May 1935. In 2000, Pope John Paul II declared him to be "the heavenly Patron of Statesmen and Politicians". More and his friend, Bishop John Fisher, who was executed on 22nd June 1535, are remembered by Catholics with a feast day on 22nd June every year.
Also on this day in history, 1st July 1536, Parliament declared that Henry VIII's two daughters, Mary and Elizabeth, were illegitimate – click here to read more.