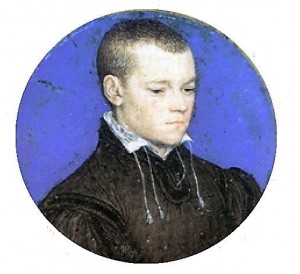 On this day in history, 4th July 1551, Gregory Cromwell, 1st Baron Cromwell and son of the late Thomas Cromwell, Earl of Essex, died of sweating sickness at Launde Abbey, in Leicestershire. He was buried at the abbey's chapel on 7th July.
Merchant-taylor Henry Machyn recorded the sweating sickness outbreak and Gregory Cromwell's death in his diary:
"The vij day of July begane a nuw swet in London, and . . . ded [died] my lord Crumwell in Leseter-shyre, and was bered [buried] [with a stand] ard, a banner of armes, and cote, elmett, sword, targett, and sc [ochyons, and] harold; and the sam tyme ded my lord Powes, and the x day [at W]ollwyche, sir John Lutterell, knyght, a nobull captayne."
Gregory was survived by his wife, Elizabeth. Elizabeth was the sister of the late queen, Jane Seymour; Edward Seymour, Duke of Somerset and Lord Protector, and the late Thomas Seymour, Baron Seymour of Sudeley, and was the widow of Sir Anthony Ughtred. Gregory and Elizabeth had five children: Henry, Edward, Thomas, Catherine and Francis. Elizbeth remarried in 1554, marrying John Paulet, Baron St John.
You can read more about Gregory Cromwell in Teri Fitzgerald's excellent article – click here.
Also on this day in history, on 4th July 1533, John Frith, reformer, theologian and martyr, was burnt at the stake at Smithfield for heresy. Click here to read more.
Notes and Sources