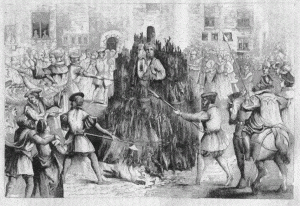 On this day in history, 4th July 1533, John Frith, reformer, theologian and martyr, was burnt at the stake at Smithfield for heresy. Frith was charged with heresy because of his religious views, which included his belief that Christ's words about the sacrament, "This is my body", were not to be taken literally, and his belief that Purgatory did not exist. Frith was given the chance to recant, but he refused. He was burnt with Andrew Hewet, a young tailor's apprentice, who also refused to recant his belief that the sacrament was not "really the body of Christ, born of the Virgin Mary".
Martyrologist John Foxe gives an account of "The story, examination, death, and martyrdom of John Frith" which starts with the words: "Amongst all other chances lamentable,: there hath been none a great time which seemed unto me more grievous, than the lamentable death and cruel handling of John Frith, so learned and excellent a young man; which had so profited in all kind of learning and knowledge, that scarcely there was his equal amongst all his companions; and besides, withal, had such a godliness of life joined with his doctrine, that it was hard to judge in whether of them he was more commendable, being greatly praiseworthy in them both: but as touching his doctrine, by the grace of Christ we will speak hereafter." He goes on to give Frith's story, as well as that of Hewet, which you can read at http://www.exclassics.com/foxe/foxe179.htm, and he ends with these words about their deaths:
"Wherefore on the fourth day of July, in the afternoon, he [Hewet' was carried into Smithfield with Frith, and there burned.
When they were at the stake, one Doctor Cook, a parson in London, openly admonished all the people, that they should in no wise pray for them, no more than they would do for a dog; at which words Frith, smiling, desired the Lord to forgive him. These his words did not a little move the people unto anger, and not without good cause. Thus these two blessed martyrs committed their souls into the hands of God."
Notes and Sources
Picture: Frith and Hewet at the stake, from The Acts and Monuments of the Christian Church by John Foxe (or Fox), digitised on exclassics.com.