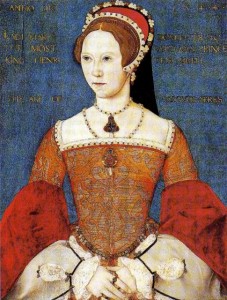 On 1st July 1536, Parliament gave the Second Act of Succession its first reading. This superseded the 1534 Act of Succession, which had made Mary illegitimate and had appointed Elizabeth as heir to the throne. The new act declared the illegitimacy of both of Henry's daughters. Both girls were now barred from the line of succession and, Elizabeth, like Mary, now lost her title of "princess". This act left Henry VIII with no legitimate heir, just three illegitimate children: Mary, Elizabeth and Henry Fitzroy, Duke of Richmond and Somerset.
Thomas Cromwell wrote to Stephen Gardiner on 5th July 1536 regarding the King's new marriage, saying "Doubts not he knows that the King is married again. He has chosen, as all his nobles and council upon their knees moved him to do, the most virtuous lady and veriest gentlewoman that liveth. Lady Mary is a most obedient child. The late Princess, Lady Elizabeth, is by Parliament pronounced also illegitimate."
When Mary came to the throne in 1553 as Mary I, her first parliament overturned the annulment of her parents' marriage, making her legitimate. Elizabeth I never made herself legitimate, perhaps she thought it was best to let sleeping dogs lie.
Also on this day in history…
1 July 1535 – The trial of Thomas More began. He was found guilty under the 1534 Treason Act and sentenced to death.
1 July 1543 – Treaties of Greenwich signed – In these treaties between England and Scotland, it was agreed that Prince Edward would marry Mary Queen of Scots.
Notes and Sources
Lehmberg, Stanford E. (2008) The Later Parliaments of Henry VIII, 1536-1547, p24
LP xi. 29