29 June – A busy day in Tudor England
Posted By Claire on June 29, 2016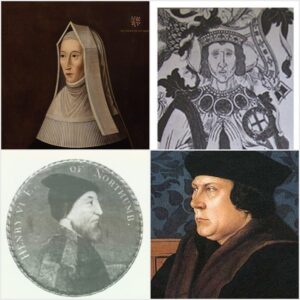 As far as "on this day in history" events go, 29th June is a rather busy day in Tudor England. Here are the main events with links to articles you can read to find out more about them…
1509 – Lady Margaret Beaufort, grandmother of Henry VIII, mother of the late Henry VII and a woman known as the matriarch of the Tudor dynasty, died at Cheyneygates, the Abbot of Westminter's house. Click here to read more.
1536 – Thomas Boleyn, Earl of Wiltshire, was stripped of his office of Lord Privy Seal following the falls of his children, Queen Anne Boleyn and George Boleyn. Click here to read more.
1537 – Henry Algernon Percy, 6th Earl of Northumberland and one-time sweetheart of Anne Boleyn, died at around the age of thirty-five. He was buried at Hackney Parish Church, and his will appointed the King as Supervisor and Edward Fox, Bishop of Hereford, and Thomas Cromwell as executors. Click here to read more.
1540 – A Bill of attainder was passed against Thomas Cromwell for the crimes of corruption, heresy and treason, stripping him of his honours and condemning him to death. Cromwell was executed on 28th July 1540, the same day that Henry VIII married Catherine Howard.