Posted By Claire on June 24, 2016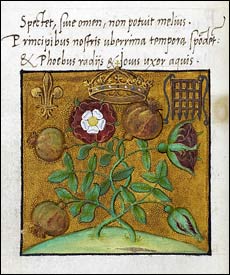 On 24th June 1509, Midsummer's Day and the Feast of St John the Baptist, King Henry VIII and his first wife, Catherine of Aragon, were crowned king and queen by William Warham, Archbishop of Canterbury, in a joint ceremony at Westminster Abbey, London.
An overjoyed Thomas More wrote in his "Coronation Ode of King Henry VIII": "This day is the end of our slavery, the fount of our liberty; the end of sadness, the beginning of joy… Such a King will wipe the tears from every eye and put joy in the place of our long distress". Henry VIII's accession brought new hope and joy to the people of England and the coronation of this good-looking and virtuous young couple was an event to celebrate.