21 June 1529 – King Henry VIII and Queen Catherine of Aragon at the Legatine Court
Posted By Claire on June 21, 2016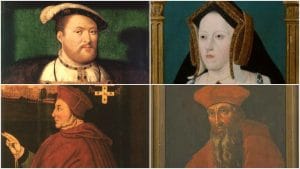 On this day in history, 21st June 1529, just over twenty years after their marriage, King Henry VIII and his first wife, Queen Catherine of Aragon, appeared before Cardinals Wolsey and Campeggio at the Legatine Court at Blackfriars.
Cardinal Wolsey had been authorised by papal bull in April 1528 "to take cognisance of all matters concerning the King's divorce" and Cardinal Lorenzo Campeggio had been made papal legate in June 1528 in preparation for hearing the divorce case. Proceedings began on 31st May 1529, after Catherine had refused Campeggio's advice that she should join a convent, and it was on 21st June 1529 that Catherine caused a stir by making an impassioned speech.
Also on this day in history 21 June 1553 – Edward VI chooses Lady Jane Grey as his heir.