Posted By Claire on June 25, 2016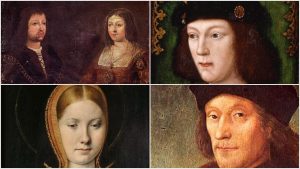 On this day in history, 25th June 1503, Henry, Prince of Wales and eldest surviving son of King Henry VII, became betrothed to Catherine of Aragon, daughter of Isabella I of Castile and Ferdinand II of Aragon, and the widow of Henry's elder brother Arthur, at the Bishop of Salisbury's palace in Fleet Street, London. Catherine was seventeen and Henry was eleven, nearly twelve.
Click here to read more about the terms of the marriage treaty which had been negotiated between the couple's parents.