25 June 1503 – Betrothal of Catherine of Aragon and Prince Henry
Posted By Claire on June 25, 2015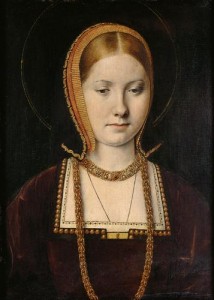 On Sunday 25th June 1503, seventeen year-old Catherine of Aragon, daughter of Isabella I of Castile and Ferdinand II of Aragon, was formally betrothed to the nearly twelve year-old Prince Henry, the future Henry VIII and the second son of Henry VII, at the Bishop of Salisbury's palace in Fleet Street, London.
According to the marriage treaty, which had been signed on 23rd June 1503, the couple would marry when Henry "shall have completed the fourteenth year of his age", i.e. when he turned fourteen on 28th June 1505, and only after a papal dispensation had been issued and the second instalment of Catherine's dowry, which amounted to one hundred thousand crowns, had been paid. Catherine had previously been married to Arthur, Prince of Wales, Henry VII's eldest son, but Arthur had died in 1502 after only six months of marriage. A dispensation was needed because of the impediment of affinity. Although Catherine later claimed that her marriage to Arthur had not been consummated, the treaty signed in 1503 stated that a dispensation was needed "because her marriage with Prince Arthur was solemnised according to the rites of the Catholic Church, and afterwards consummated." You can read the full terms of the treaty in the Calendar of State Papers, Spain, Volume 1, 1485-1509 at http://www.british-history.ac.uk/cal-state-papers/spain/vol1/pp306-308.
Although Henry and Catherine did indeed marry, it wasn't until 11th June 1509. Henry actually renounced his betrothal to Catherine of Aragon on 27th June 1505, claiming that it had been contracted without his consent. It was the day before the marriage was due to be solemnised.
Also on this day in history…
1533 – Death of Mary Tudor, Queen of France, sister of Henry VIII and wife of Charles Brandon, Duke of Suffolk. Click here to read more about her.
Notes and Sources
Calendar of State Papers, Spain, Volume 1, 1485-1509, p. 306, Treaty Between Ferdinand and Isabella and Henry VII.
Loades, David (2009) The Six Wives of Henry VIII, p.18.
Tremlett, Giles (2010) Catherine of Aragon: Henry's Spanish Queen, p. 112.
Fox, Julia (2011) Sister Queens, p. 102.