Posted By Claire on May 18, 2014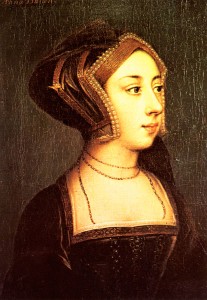 On the night of 17th May 1536, while the carpenters built her scaffold within the grounds of the Tower of London, Anne Boleyn prepared herself for her execution, which had been scheduled for 9am on the 18th. At 2am, her almoner John Skip (some say her confessor Father Thirwell) arrived to pray with her. She was still in prayer when Archbishop Cranmer arrived just after dawn to hear her final confession and to celebrate the Mass.
Anne Boleyn asked Sir William Kingston, the Constable of the Tower, to be present while she took the sacrament. She swore on it twice, before and after receiving it, that she had not been unfaithful to the King, acts which Kingston reported back to the King. By swearing on the sacrament, Anne was putting her soul into mortal peril if she was actually lying. Anne then made arrangements for the customary distribution of alms using the £20 given to her by the King for this purpose, and then she waited for 9am, the moment she thought she would take her final walk. She went back to her prayers.
When nothing happened at 9am, Anne sent for Kingston. She had heard that her execution had been postponed until noon. This was correct. Kingston had received orders to clear the Tower of foreigners that day in preparation for the execution the next day. He kept Anne in suspense a bit longer, but tried to comfort her by explaining that her execution would not be painful and that the blow was "so subtle". To this, Anne replied with characteristic black humour, "I heard say the executioner was very good, and I have a little neck", after which she put her hands around her throat and laughed heartily. She also joked with her ladies that the people would be able to give her the nickname "la Royne Anne Sans Tete" or Queen Anne Lackhead. Kingston was impressed with Anne Boleyn's composure in those dark hours of waiting, commenting to Cromwell that "thys lady hasse mech joy and plesure in dethe". Her faith must have sustained her.
Anne was finally put out of her misery when noon passed and Kingston informed her that her execution had been postponed until the next day, the 19th. Anne was obviously distressed but all she could do was return to prayer and seek spiritual comfort.
Notes and Sources
LP x. 908
Ibid., 910
Sergeant, Philip W. (1934) Anne Boleyn: A Study, p269