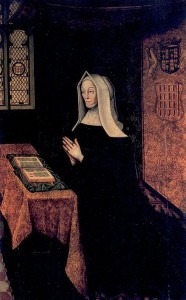 On this day in 1509, Lady Margaret Beaufort, grandmother of Henry VIII, mother of the late Henry VII and a woman known as the matriarch of the Tudor dynasty, died at Cheyneygates, the Abbot of Westminter's house.
Margaret died just four days after enjoying the coronation celebrations of her grandson Henry VIII, and Henry Parker, Lord Morley, who acted as her cupbearer at the coronation ceremonies, reported that "she took her infirmity with eating of a cygnet" at the coronation banquet. John Fisher, Bishop of Rochester and a good friend of Margaret, performed the last rites and she died as he elevated the host. She was buried in the south aisle of Henry VII's Chapel in Westminster Abbey, and her tomb features an effigy sculpted by Pietro Torrigiano. It shows Margaret dressed in traditional widow's dress, her head resting on two pillows decorated with the Tudor badge, her hands raised in prayer and the Beaufort family crest at her feet.
You can find out more about Margaret in my bio of her – click here.