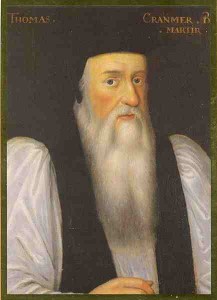 On 2nd July 1489, Thomas Cranmer, Archbishop of Canterbury in the reigns of Henry VIII, Edward VI and Mary I, was born at Aslockton in Nottinghamshire. He was the son of Thomas Cranmer and his wife Agnes (née Hatfield).
Cranmer is known for:
His work on Henry VIII's Great Matter, the annulment of the marriage of Henry VIII and Catherine of Aragon, and his support of Henry's marriage to Anne Boleyn.
Lodging at Durham House, Thomas Boleyn's house on the Strand, in the summer of 1529 while writing a report "concerninge the Kinges question", i.e. the annulment.
His "Ten Articles" which were published in summer 1536 and which defined the beliefs of the new Church of England, and the subsequent Bishops' Book of 1537.
Crowning Anne Boleyn on 1st June 1533.
His role in Catherine Howard's downfall – He was chosen to tell Henry VIII about Catherine's colourful past, which he did by giving the King a letter during mass. He also interrogated Catherine.
Surviving a plot against him in 1543.
Holding the King's hand at his death in January 1547 and being one of the executors of Henry's will.
His role in the 1549 Act of Uniformity and the Book of Common Prayer.
Being deprived of his office and being burned at the stake for heresy in 1556 by Mary I as one of the Oxford Martyrs.
You can read more about Thomas Cranmer in the following articles:
If you want to know even more about Thomas Cranmer, I'd highly recommend Thomas Cranmer: In a Nutshell by Beth von Staats and Thomas Cranmer: A Life by Diarmaid MacCulloch.