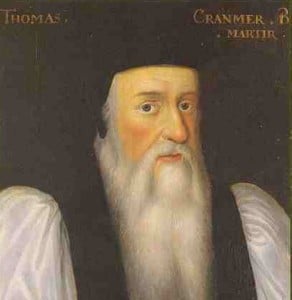 On this day in history, 21st March 1556, the third of the Oxford Martyrs, Thomas Cranmer, the former Archbishop of Canterbury, leader of the English Reformation and 'architect' of the Book of Common Prayer, was burnt at the stake in Oxford.
Cranmer had been found guilty of heresy at a trial in September 1555 and in December 1555 Pope Paul IV had stripped him of his office of archbishop and given the secular authorities permission to sentence him. His good friends and fellow Oxford martyrs, Bishops Hugh Latimer and Nicholas Ridley, had been burnt at the stake for heresy on 16th October 1555. The site of the burnings, which is in the middle of the road on Broad Street, just outside Balliol College, is marked with a cobblestone cross and there is a stone memorial, Martyrs' Memorial, which can be seen at the south end of St Giles.
Martyrologist John Foxe wrote of Thomas Cranmer's burning in his Book of Martyrs:
"With thoughts intent upon a far higher object than the empty threats of man, he reached the spot dyed with the blood of Ridley and Latimer. There he knelt for a short time in earnest devotion, and then arose, that he might undress and prepare for the fire. Two friars who had been parties in prevailing upon him to abjure, now endeavoured to draw him off again from the truth, but he was steadfast and immoveable in what he had just professed, and before publicly taught. A chain was provided to bind him to the stake, and after it had tightly encircled him, fire was put to the fuel, and the flames began soon to ascend. Then were the glorious sentiments of the martyr made manifest;—then it was, that stretching out his right hand, he held it unshrinkingly in the fire till it was burnt to a cinder, even before his body was injured, frequently exclaiming, "This unworthy right hand!" Apparently insensible of pain, with a countenance of venerable resignation, and eyes directed to Him for whose cause he suffered, he continued, like St. Stephen, to say, "Lord Jesus receive my spirit!" till the fury of the flames terminated his powers of utterance and existence. He closed a life of high sublunary elevation, of constant uneasiness, and of glorious martyrdom, on March 21, 1556."
Trivia: Did you know that Thomas Boleyn acted as Thomas Cranmer's patron from 1529 and that he lodged in Thomas Boleyn's property, Durham Place, while he was working on the annulment of Henry VIII's first marriage?
Click here to read more about Thomas Cranmer's execution and what led to it, and you can read more about his life in Beth von Staats's book Thomas Cranmer in a Nutshell and Diarmaid MacCulloch's biography Thomas Cranmer: A Life.
Thomas Cranmer is a Tudor character that means a lot to me and you can read why in my article Me and Thomas Cranmer. I will be raising a glass to him today. RIP Thomas Cranmer.
You can also read more about Thomas Cranmer in the following articles: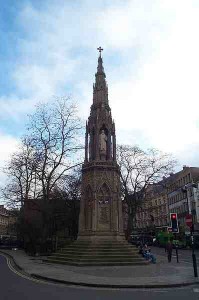 Notes and Sources
Pictures: Thomas Cranmer by an unknown artist; The Cross on Broad Street Oxford marking the place where Thomas Cranmer, Hugh Latimer and Nicholas Ridley were burned at the stake. © Copyright Bill Nicholls and licensed for reuse under this Creative Commons Licence. Geograph.org.uk.; Martyrs' Memorial, Oxford, 2005-03-17. Copyright © 2005 Kaihsu Tai, licensed under the Creative Commons Attribution-Share Alike 3.0 Unported, Wikipedia.
Foxe, John, Foxe's Book of Martyrs, Chapter on Archbishop Cranmer.