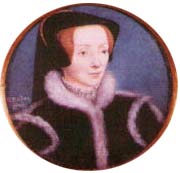 On this day in history, 19th September 1580, Katherine Bertie (née Willoughby and previous married name Brandon), Duchess of Suffolk, died at the age of sixty-one after a long illness. She was buried in Spilsby church, Lincolnshire.
Katherine was the wife of Richard Bertie and had previously been married to Charles Brandon, Duke of Suffolk, who died in 1545. She was the daughter of William Willoughby, 11th Baron Willoughby de Eresby, and his wife, Lady Maria de Salinas, who had travelled to England from Spain in Catherine of Aragon's entourage.
Click here to read more about her.