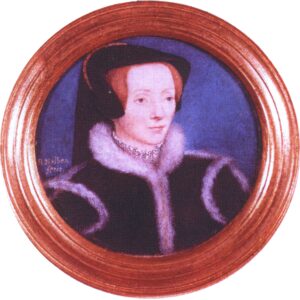 On 19th September 1580, sixty-one year-old Katherine Bertie (née Willoughby and previous married name Brandon) died after a long illness. She was buried in Spilsby church, Lincolnshire.
Katherine was the daughter of William Willoughby, 11th Baron Willoughby de Eresby, and his wife, Lady Maria de Salinas, who had travelled to England from Spain in Catherine of Aragon's entourage. In 1529, three years after her father's death, Katherine was made a ward of Charles Brandon, Duke of Suffolk, and in 1533, at the age of fourteen, Katherine became Brandon's fourth wife. The marriage resulted in two sons, Henry and Charles, who unfortunately died of sweating sickness in their teens in 1551. Katherine was widowed in August 1545, and went on to remarry, probably in 1552, her gentleman usher, Richard Bertie. The couple had two children, Peregrine, 13th Baron Willoughby de Eresby, and Susan.
Katherine was known for her firm faith and her outspoken defence of reform. She was part of the circle of reformist women who were friends with Queen Catherine Parr, and had many humanist and reformist books dedicated to her. She was a known Protestant patron, helping clergyman of a reformist persuasion attain livings in Lincolnshire, inviting Hugh Latimer to preach at her home, Grimsthorpe, and hiring Miles Coverdale to teach her children.
Katherine, Bertie and their household went into exile at the beginning of 1555 when it became apparent that Katherine could not support the Catholic Mary I. They returned to England in 1559, following Elizabeth I's accession.
Visitors to Spilsby Church can see a huge monument to Katherine and her husband, Richard Bertie, who died two years later.
(Extract taken from On This Day in Tudor History by Claire Ridgway)
For those of you who want to know more about Katherine, her beliefs and her patronage of reformers, I would recommend Melissa Franklin Harkrider's book Women, Reform and Community in Early Modern England: Katherine Willoughby, duchess of Suffolk, and Lincolnshire's Godly Aristocracy, 1519-1580. It's an expensive book but it's the only biography there is of this fascinating woman and it's excellent.