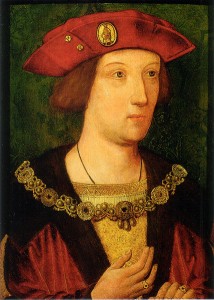 On 20th September 1486, "afore one o'clock after midnight", Elizabeth of York, queen consort of King Henry VII, gave birth to a baby boy at St. Swithun's Priory in Winchester.
Henry VII had decided that his first child would be born at Winchester, the place believed to have been the capital of the legendary Camelot, and that the child would be called Arthur after Camelot's heroic king. Henry was convinced that Arthur's birth would bring about a new golden age, but the boy only lived to the age of fifteen and it was Arthur's younger brother Henry who succeeded their father and became Henry VIII.
You can read more about Arthur in my article Arthur Prince of Wales.