24 September 1486 – Christening of Arthur, Prince of Wales
Posted By Claire on September 24, 2014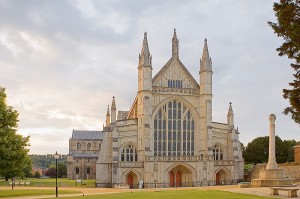 On 24th September 1486, Arthur, Prince of Wales and son of Henry VII, was christened at a lavish ceremony at Winchester Cathedral.
Arthur had been born on the 20th September but was not baptised straightaway because his intended godfather, John de Vere, 13th Earl of Oxford, needed time to travel from Suffolk to Winchester.
On the day, those taking part gathered in Queen Elizabeth of York's apartments, while Arthur's grandmother, Elizabeth Woodville, who was standing as his godmother, waited at the cathedral. After three hours, the Earl of Oxford still hadn't arrived, so the King ordered Thomas Stanley, the Earl of Derby and the baby's stepgrandfather, to stand in for Oxford. Shortly after the baby had been baptised and named, Oxford arrived and was able to present Arthur for his confirmation. The party then processed to the shrine of St Swithun, the cathedral's saint, where hymns were sung, and then they enjoyed the traditional spices, hypocras and wine. The baby, held by his Aunt Cecily, was processed past burning torches back to his nursery and to his mother.
(Taken from On This Day in Tudor History by Claire Ridgway)