Posted By Claire on December 17, 2015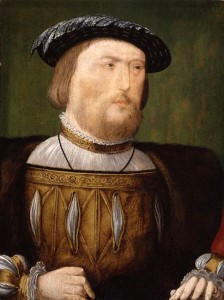 On 17th December 1538, Pope Paul III announced the excommunication of King Henry VIII.
Pope Clement VII had threatened the king with excommunication in March 1530 after he had found out from Catherine of Aragon that Henry had boasted that he would take a second wife "notwithstanding the inhibition and mandate against him".1 Then, in July 1533, the Pope had declared "his divorce from Katharine and marriage with Anne Boleyn null […] pronouncing the King to have incurred the greater excommunication, but suspending the declaration of the same till the end of September."2 Henry VIII ignored the Pope's warnings and on 30th August 1535 Pope Paul III issued a sentence of excommunication against the king.3 This excommunication was then suspended, in the hope that Henry would toe the line, but his subsequent behaviour led to the Pope finally renewing the bull and excommunicating the king on 17th December 1538:
"Bull against Hen. VIII., renewing the execution of the bull of 30 Aug. 1535, which had been suspended in hope of his amendment, as he has since gone to still further excesses, having dug up and burned the bones of St, Thomas of Canterbury and scattered the ashes to the winds, (after calling the saint to judgment, condemning him as contumacious, and proclaiming him a traitor), and spoiled his shrine. He has also spoiled St. Augustine's monastery in the same city, driven out the monks and put in deer in their place. Publication of this bull may be made in Dieppe or Boulogne in Fiance, or in St. Andrew's or Coldstream (? "in oppido Calistrensi"), St. Andrew's dioc., in Scotland, or in Tuam or Ardfert in Ireland, if preferred, instead of the places named in the former bull Rome, Paul III."4
You can read more about what made the Pope finally 'snap' and excommunicate Henry VIII in my article from 2010 – click here.
Also on this day in history…
1559 – Matthew Parker was consecrated as Elizabeth I's Archbishop of Canterbury. Click here to read more about Parker and why his 'duty' to Anne Boleyn led to him taking this post.
Notes and Sources
Image: Henry VIII, Anglo-Dutch, c.1535-40, NPG.
Letters and Papers, Foreign and Domestic, Henry VIII, Volume IV, 6256.
LP vi. 80.
LP ix. 207.
LP xiii. Part 2. 1087.