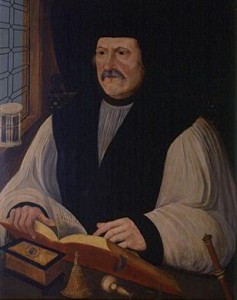 On this day in history, 17th December 1559, Matthew Parker was consecrated as Elizabeth I's Archbishop of Canterbury.
Parker had been offered the post of Elizabeth I's Archbishop of Canterbury in 1558, a post which he did not believe that he was right for or fit enough for (he'd had a nasty fall from a horse), Parker wrote to Sir Nicholas Bacon:
"though my heart would right fain serve my sovereign lady the Queen's majesty, in more respects than of mine allegiance, not forgetting what words her grace's mother said to me of her, not six days before her apprehension, yet this my painful infirmity will not suffer it in all manner servings…"
In 1572, in a letter to William Cecil, Lord Burghley, Parker wrote of how he had only accepted the position of Archbishop of Canterbury because of his promise to Anne Boleyn:
"Yea, if I had not been so much bound to the mother, I would not so soon have granted to serve the daughter in this place."
We know that Parker met with Anne Boleyn on 26th April 1536, just a few days before her arrest, and it appears that she charged him with her daughter's spiritual welfare. As Eric Ives wrote, "That charge, and the debt he felt he owed to Anne, stayed with him for the rest of his life." It was enough of a promise for him to take a job that he didn't want.
I believe that Anne Boleyn knew what she was doing when she entrusted Elizabeth's care to Parker. Parker was a member of a group of wise Cambridge men, influential scholars and Reformers, and I believe that she was ensuring that Elizabeth would have the connections she needed to become a formidable woman and queen.
You can read more about this in Robert Parry's articles "Cambridge Connections" and "Cambridge Connections Part 2" over at The Elizabeth Files.
Notes and Sources
Parker, Matthew The Correspondence of Matthew Parker, D.D., Archbishop of Canterbury:
Comprising Letters Written by and to Him, from A.D. 1535, to His Death, A.D. 1575 (edited for the Parker Society by John Bruce, and Thomas Thomason Perowne, 1853), p59 and 391
Ives, Eric (2004) The Life and Death of Anne Boleyn, Blackwell Publishing, p267