Posted By Claire on December 14, 2015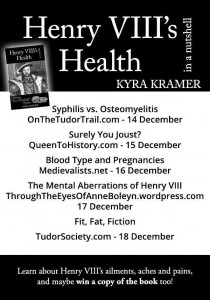 Kyra Kramer is touring the blogosphere this week with some excellent articles on Henry VIII's health to celebrate the release of her latest book Henry VIII's Health in a Nutshell.
Henry's health, and the various myths and questions that surround it, is a fascinating subject so do make sure you join her on this tour. There is a giveaway at each stop too.
Here's the schedule: