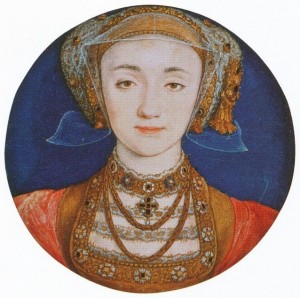 On 16 July 1557, Anne of Cleves, Henry VIII's fourth wife, died at Chelsea Old Manor after a few months of illness. Her body was embalmed and placed in a coffin covered with a cloth bearing her arms. Tapers were lit around her coffin and prayers said on a daily basis.
On 4 August 1557, she was buried in Westminster Abbey with Catholic rites, with Elizabeth, Marchioness of Winchester, acting as chief mourner. The officers of Anne's household broke their staves of office and threw them into her tomb. Visitors to Westminster Abbey can pay their respects to Anne of Cleves. Her tomb is "on the south side of the High Altar and her monument is a low stone structure of three sections with carvings showing her initials AC with a crown, lions' heads and skulls and crossed bones (symbols of mortality)."
In her will, Anne left her jewellery to her stepdaughters, Mary I and Princess Elizabeth.
Although the inscription on her tomb reads "Anne of Cleves Queen of England. Born 1515. Died 1557.", this was not added until the 1970s and Anne lost her title of queen when her marriage to Henry VIII was annulled in July 1540. The King took Anne as his "dearest sister by adoption" and it was agreed that she would "have precedence over all ladies in England, after the Queen and the King's children". Anne agreed to the annulment, signing herself as "Your Majesty's most humble sister and servant Anne" and Henry replied, addressing her as "Right dear and right entirely beloved sister" and promising that if she continued in her conformity then she would find him "a perfect friend, content to repute you as our dearest sister."
Anne outlived the King by over ten years, living through Edward VI's reign and a large part of Mary I's.
You can read more about Anne in the following articles:
If you want a book on Anne of Cleves then I'd recommend The Marrying of Anne of Cleves by Retha Warnicke and Anne of Cleves: Henry VIII's Discarded Bride by Elizabeth Norton.
Notes and Sources
Anne [Anne of Cleves] (1515–1557), queen of England, fourth consort of Henry VIII by Retha M. Warnicke, Oxford Dictionary of National Biography
Anne of Cleves: Henry VIII's Discarded Bride by Elizabeth Norton
'Diary: 1557 (July – Dec)', The Diary of Henry Machyn: Citizen and Merchant-Taylor of London (1550-1563) (1848), pp. 141-162 – see http://www.british-history.ac.uk/report.aspx?compid=45520
LP xv. 898, 899, 925.
Anne of Cleves, 4th Wife of Henry VIII, at http://www.westminster-abbey.org/