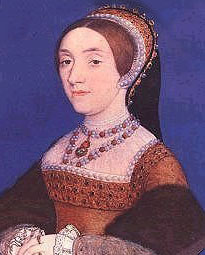 On 28 July 1540, the same day that Thomas Cromwell was beheaded on Tower Hill, 49 year-old Henry VIII married his fifth wife, Catherine Howard, who was somewhere between 16 and 20 years of age, at Oatlands Palace.
Henry VIII's marriage to his fourth wife, Anne of Cleves, had been declared null and void on 9 July 1540, "by reason of a precontract between lady Anne and the marquis of Lorraine, that it was unwillingly entered into and never consummated", so Henry was now free to marry Anne's former maid-of-honour, the girl he referred to as his "rose without a thorn".
The wedding was private and low key, due to the recent annulment and Catherine made her first public appearance as Queen on 8th August at Hampton Court Palace. However, her time as queen was to be rather short-lived.
You can read more about the marriage and Catherine's background in my article The Marriage of Catherine Howard and Henry VIII, and more about the myths surrounding Catherine in Catherine Howard – Material Girl?. MadeGlobal Publishing is releasing Conor Byrne's book on Catherine Howard next month, Katherine Howard: Rose without a Thorn, and my book The Fall of Catherine Howard: A Countdown should be out by Christmas.