12 July 1543 – Henry VIII and Catherine Parr Tie the Knot at Hampton Court Palace
Posted By Claire on July 12, 2014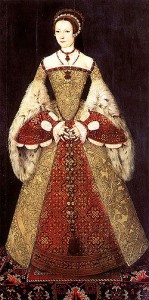 On 12th July 1543, Henry VIII married Catherine Parr, Lady Latimer, in the Queen's Closet of the Chapel Royal, Hampton Court Palace. The ceremony was performed by Stephen Gardiner, Bishop of Winchester, and was attended by around twenty courtiers and friends of the couple. Catherine's supporters at the ceremony included her sister, Anne Herbert; Henry VIII's daughters, Mary and Elizabeth; his niece, Lady Margaret Douglas; Anne Stanhope, the Countess of Hertford; Catherine Willoughby, the Duchess of Suffolk; and Jane Dudley, Viscountess Lisle and wife of John Dudley. The men included Catherine's brother-in-law, William Herbert; Anthony Denny; Sir Thomas Speke; Sir Edward Baynton; Sir Richard Long; Sir Thomas Darcy; Sir Henry Knyvet; Sir Thomas Heneage; Edward Seymour, Earl of Hertford; John, Lord Russell, the Lord Privy Seal, and Sir Anthony Browne, Captain of the King's Pensioners
This was Henry VIII's sixth marriage and Catherine had been married and widowed twice before, firstly to Edward Burgh (or Borough), son of Sir Thomas Burgh and grandson of Edward, 2nd Baron Burgh, and secondly to John Neville, 3rd Baron Latimer, of Snape in Yorkshire.
The wedding was followed by a special wedding breakfast and a proclamation that Catherine was Queen. Catherine was the wife who "survived", surviving a plot in 1546 and outliving the King, who died in January 1547. You can read more about her in the following articles:
If you're interested in a book on Catherine Parr, I'd recommend Susan James' Catherine Parr: Henry VIII's Last Love, Linda Porter's Katherine the Queen and Elizabeth Norton's Catherine Parr.
Also on this day in history…
1537 – Execution of Robert Aske, lawyer and rebel. He was hanged in chains outside Clifford's Tower, the keep of York Castle. Aske was one of the leaders of the rebels in the 1536 northern uprising known as the Pilgrimage of Grace.
Notes and Sources