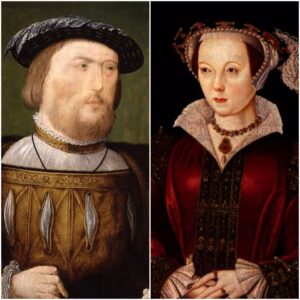 On this day in history, 12th July 1543, King Henry VIII took Catherine Parr, Lady Latimer, as his sixth and final wife.
The wedding took place in the Queen's Closet of the Chapel Royal at Hampton Court Palace, which can still be visited today, and was performed by Stephen Gardiner, Bishop of Winchester, and was attended by around twenty courtiers and friends.
Catherine had been married and widowed twice. Her first marriage had been to Edward Burgh (or Borough), son of Sir Thomas Burgh and grandson of Edward, 2nd Baron Burgh, whom she married in 1529. Burgh died in 1533 and Catherine went on to marry John Neville, 3rd Baron Latimer of Snape in Yorkshire, in 1534. Latimer died in March 1543.
Henry VIII was not to be Catherine's last husband; just a few months after the king's death in January 1547, Catherine married Thomas Seymour, 1st Baron Seymour of Sudeley.
Henry VIII had been married five times. He had had his first marriage, to Catherine of Aragon, annulled in 1533 after just less than 24 years of marriage; his marriage to Anne Boleyn lasted just three years and ended in her execution in May 1536; his marriage to Jane Seymour lasted from May 1536 to October 1537 when Jane died following complications from childbirth; his fourth marriage, to Anne of Cleves, lasted six months and was annulled due to an alleged pre-contract and the fact that it was not consummated; and, Catherine Howard was his wife from July 1540 to her execution in February 1542.
Read more about Henry and Catherine's wedding….