Haunted Galleries: Visiting the sites of Catherine Howard's life by Gareth Russell
Posted By Claire on May 31, 2017
Thank you to my dear friend for writing this article for us today. This is the second of a two-part series and you can click here to catch up with the first part "Parthenope and Iphigenia: The Posthumous Reputations of Queen Catherine Howard".
Gareth's publishers are kindly offering a copy a copy of Gareth's book on Catherine Howard, Young and Damned and Fair, as a giveaway prize. All you need to do is leave a comment below this post by midnight on 7th June 2017 saying what you think of Catherine Howard. The giveaway is open internationally. One comment will be picked at random and the winner contacted for their details.
Over to Gareth…
Of the historical Catherine Howard, there are now few tangible surviving places which bear any resemblance to what she saw during her lifetime. While researching Young and Damned and Fair, my biography of her, I visited as many of them as I could and, in most cases, I found them to be deeply moving. Although many have, as I said, changed almost beyond recognition, there is a sadness to be had in visiting some of the places where Catherine lived, prayed, and visited. Her guardian's former home at Chesworth House, still privately owned, has been altered many times since Catherine passed her girlhood there. A hotel covers the site of Norfolk House, where her some of her early romances played out, but the pretty church of St. Mary-at-Lambeth, which I argue in my biography of her was almost certainly where Catherine was christened and worshipped as a young woman, survives as a thriving horticultural museum.1 The Houses of Parliament are visible on the opposite side of the river, the archbishops' of Canterbury official residence is still a few feet away at Lambeth Palace, and the Howard graves rest within, in darkness, unseen and unmarked thanks to countless renovations since the sixteenth century.2
The royal apartments at what remains of Pontefract Castle, where Catherine arrived on her tour in 1541, are now grass-covered ruins, covered in netting to preserve the stonework. Stone steps once in use to Catherine's rooms are out of bounds for health and safety reasons. It is a peaceful, beautiful place and the stone benches, which were there in 1541, look out over the green, where bowls were once played.3
Grimsthorpe Castle and many of the places where Catherine stayed during her tour of the north of England in 1541 survive – at King's Manor, a fine red-brick building now in use by the Archaeology and Medieval History departments of York University, one can still see some of the original fireplaces and timber-beams, visible in Catherine's day, in the roof of the library.4 Hampton Court, the palace where Catherine spent most of her time as queen and where her the agony of her downfall began, is the last great survivor of Tudor palaces. Catherine's apartments, and Henry's, were demolished to make room for renovations on the orders of the seventeenth century's William III, as part of his attempt to both defy and imitate the recently-completed Versailles. Initially, William's aim had been to demolish all of the Tudor structure, but, fortunately for those studying Henry's reign and family, the cost mounted to the point that plans were abandoned half-way through, producing a palace that was a fusion of Tudor and Baroque splendour. Today, the entrance to Hampton Court brings visitors into many of the rooms and courtyards which Catherine would have known and from where she was led as a prisoner in November 1541. Perhaps its most colourful legend, preserved in many tours, is of the "Haunted Gallery" that leads from what was once the Queen's apartments to the Privy Council chamber. The story goes that it was here that Catherine made a mad, frantic dash to reach her husband and beg for mercy; before she could reach him, she was dragged away screaming.5 Ghost hunters and a few tour guides claim that the horror left a spectral imprint on the gallery, which is today often thronged with tourists rather than the ghost of an unlucky queen.
At Lincoln Cathedral, where Catherine knelt in prayer in August 1541, wearing her cloth of silver gown, there is a soldiers' chapel, consecrated in 1912, which serves as the Lincolnshire Regimental Chapel and commemorates the sacrifice of local soldiers in national wars. Regimental flags hang within and, at the entrance, there are small carvings of some of the great warrior-royals in English history – in Lincoln's mind, Alfred the Great, Edward the Black Prince, and Henry V. Despite his dreams of immortality won in the battlefield, Catherine's husband is nowhere to be found.6
Of all the places associated with Catherine, inevitably it is the Chapel of Saint Peter-ad-vincula, where she is buried, that elicits the strongest emotional reaction. Victorian obsession with the tragic improbabilities of the Tudor dynasty reached the throne's incumbent.7 With the result that when Sir Charles Yorke, Constable of the Tower, wrote to Queen Victoria in 1876 with a request to undertake a full restoration on the by-then neglected chapel, during which they would need to exhume the bodies buried beneath the chancel, including Catherine's, he received a response from the Queen "expressing her great regret at learning that so little respect should have apparently been shown to the remains of the dead, gave her sanction to the plan, with the express condition that the greatest care and reverence should be exercised in this removal, and that a careful record should be kept of every sign of possible identification which might come to light."8
Victoria's stipulations were sufficiently intimidating that Yorke toyed with the idea of trying to conduct the restoration without disturbing the stones in the chancel, until one of the team, Algernon Freeman-Mitford, persuaded him that the chancel was one of the areas most in need of work. Freeman-Mitford, who had been brought up on childhood stories of hauntings at the Tower, admitted to feeling "a thrill of emotion" when on 9 November 1877 they unearthed the remains of Anne Boleyn, exactly where the Tower's records indicated she had been buried. Skeletons presumed to be those of the Countess of Salisbury and Catherine's confidante, Lady Rochford, lay close to one another; they showed Lady Salisbury to have been a tall woman and Lady Rochford of slender build.9 However, they could not find the remains of Lady Rochford's husband, George Boleyn, and they eventually concluded that he rested beneath a monument added to the Blount family in the Elizabethan era, which had too great a structural and artistic value to move.
With one queen accounted for in the shape of Anne Boleyn, on 11 November 1876 a two-day hunt for Catherine began. But as with George Boleyn, no trace of Catherine could be found. There has recently been a suggestion that the bones identified in 1877 as belonging to Anne Boleyn may, in fact, have been Catherine's.10 The science of pathology was in its infancy and it is therefore possible that mistakes were made. However, the bones' location so close to the altar suggest it was an earlier burial and the fact that the Tower records indicate that Queen Anne would be found there adds credence to Dr Mouat's belief that he examined the remains of Anne Boleyn, particularly since the Tower records proved so reliable in other Victorian examinations, including locating the body of Charles II's son, the Duke of Monmouth. Freeman-Mitford had his own theory about what had happened to Catherine: "Of Katharine Howard not a trace, but she was so young that the greedy lime would make short work of eating her hardly developed bones."11 Whether this was the reason, which seems unlikely at best, or if, like George Boleyn, Catherine lay in a spot that could not prudently be excavated by 1877, her remains were not exhumed. Those that were found were placed in lead coffins, engraved with their coats of arms and re-buried beneath the renovated chancel. Although she was not one of them, Catherine's escutcheon was added to the floor of the chancel on Queen Victoria's orders, thereby marking her grave for the first time.
Catherine's body lies there today with other victims and leaders of the Tudor state. Lady Jane Grey was buried there after her execution in 1554.
12
Cardinal Fisher, Thomas More, and Catherine's kinsman Philip Howard, 20th Earl of Arundel, who died imprisoned for his Catholic faith in 1595, rest in Saint Peter's, as does Thomas Cromwell, both of the Seymour brothers, John Dudley, Catherine's brother-in-law Thomas Arundell, and two more of her kinsmen – the 4th Duke of Norfolk, executed for treason in 1572, and William Howard, 1st Viscount Stafford, who was beheaded during the anti-Catholic hysteria of the Popish Plot in 1680. The little Howard queen is thus buried in a chapel that houses the remains of three saints, two beatified Catholic martyrs, three dukes, one marquess, four earls, and three queens. But since there have been no more excavations since Queen Victoria's failed to locate her body, Catherine herself remains hidden.
Gareth Russell is the author of Young and Damned and Fair, a new biography of Queen Catherine Howard, published in 2017. He is also the author of several history books and the Popular series of novels. He is currently working on a book about the Titanic and the Edwardian class system.
Do remember to leave a comment below this post by midnight on 7th June 2017 saying what you think of Catherine Howard to enter the giveaway.
Book blurb: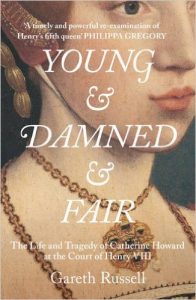 In the five centuries since her death, Catherine Howard has been dismissed as 'a wanton', 'inconsequential' or a naïve victim of her ambitious family, but the story of her rise and fall offers not only a terrifying and compelling story of an attractive, vivacious young woman thrown onto the shores of history thanks to a king's infatuation, but an intense portrait of Tudor monarchy in microcosm: how royal favour was won, granted, exercised, displayed, celebrated and, at last, betrayed and lost. The story of Catherine Howard is both a very dark fairy tale and a gripping political scandal.
Born into the nobility and married into the royal family, during her short life Catherine was almost never alone. Attended every waking hour by servants or companions, secrets were impossible to keep. With his research focus on Catherine's household, Gareth Russell has written a narrative that unfurls as if in real-time to explain how the queen's career ended with one of the great scandals of Henry VIII's reign.
More than a traditional biography, this is a very human tale of some terrible decisions made by a young woman, and of complex individuals attempting to survive in a dangerous hothouse where the odds were stacked against nearly all of them. By illuminating Catherine's entwined upstairs/downstairs worlds, and bringing the reader into her daily milieu, the author re-tells her story in an exciting and engaging way that has surprisingly modern resonances and offers a fresh perspective on Henry's fifth wife.
Young and Damned and Fair is a riveting account of Catherine Howard's tragic marriage to one of history's most powerful rulers. It is a grand tale of the Henrician court in its twilight, a glittering but pernicious sunset during which the king's unstable behaviour and his courtiers' labyrinthine deceptions proved fatal to many, not just to Catherine Howard.
The book is available from Amazon.com, Amazon.co.uk and other bookshops.
Notes and Sources
For the argument that Catherine was christened in St Mary-at-Lambeth, see Gareth Russell, Young and Damned and Fair: The Life of Catherine Howard, Fifth Wife of King Henry VIII (New York: Simon and Schuster, 2017), pp. 16-19.
At the time of writing, the Garden Museum is closed for renovations and several exciting discoveries have already been made, including the remains of a former Archbishop of Canterbury.
Author's visit, 2 July 2015.
Author's visit, 1 July 2015.
For a fuller discussion of the legend of Hampton Court's "Haunted Gallery", see Russell, Young and Damned and Fair, p. 271.
Author's visit, 30 June 2015.
I discuss nineteenth-century attitudes to the Tudors and the impact of these views in my article "Parthenope and Iphigenia: The Posthumous Reputations of Queen Catherine Howard" , published on this website.
Doyne C. Bell, Notices of the Historic Persons Buried in the Chapel of St. Peter ad Vincula, in the Tower of London: With an Account of the Discovery of the Supposed Remains of Queen Anne Boleyn (London: J. Murray, 1877), p. 16.
Bell, pp. 24-7.
For the best argument in favour of the remains being Catherine's, rather than Anne's, see Alison Weir, The Lady in the Tower: The Fall of Anne Boleyn (London: Jonathan Cape, 2009), pp. 324-327.
Algernon Freeman-Mitford, 1st Baron Redesdale, A Tragedy in Stone: and Other Papers (London: John Lane, 1912), pp. 32-3.
Like the Tudors' English-born queens consort, Jane Grey seems destined to be remembered by her maiden name.