31 May 1529 – The opening of the Blackfriars Legatine Court
Posted By Claire on May 31, 2017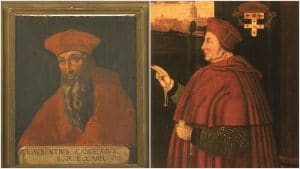 On this day in history, 31st May 1529, a special legatine court opened at Blackfriars in London.
The court's purpose was to hear the case for an annulment of Henry VIII's marriage to his first wife, Catherine of Aragon. It was presided over by Cardinal Thomas Wolsey, who had been made Pope Clement VII's viceregent in 1528 "to take cognisance of all matters concerning the King's divorce, and papal legate Cardinal Lorenzo Campeggio.
Unfortunately for King Henry VIII, the case came to nothing when the court was adjourned in July 1529 for a summer recess, never to meet again. It took until May 1533, following the break with Rome, for the marriage to be formally annulled.
You can read more about the legatine court in my article on Cardinal Campeggio – click here.