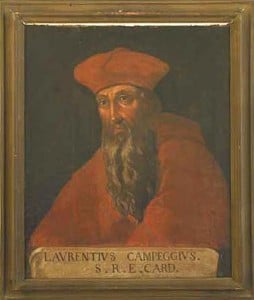 On this day in history, 29th September 1528, the papal legate, Cardinal Lorenzo Campeggio, landed at Dover on the Kent coast. In early 1528 Cardinal Thomas Wolsey, Henry VIII's right hand man, had written to Pope Clement VII outlining Henry VIII's demand that the case for an annulment of his marriage to Catherine of Aragon be decided in England by Wolsey and a visiting papal legate, who would act with the full authority of the Pope. On the 13th April 1528, a papal bull had empowered Cardinal Wolsey as the Pope's viceregent "to take cognisance of all matters concerning the King's divorce" and Campeggio had been made papal legate in June 1528 in preparation for hearing the divorce case.
On the 8th December 1528, Cardinal Campeggio arrived in London but Eric Ives explains how his "powers were not complete" which necessitated "further wearisome and unsatisfactory negotiation with the papal Curia." This lack of authority was actually a papal stalling tactic. Things were made worse for Henry VIII and Wolsey when Catherine of Aragon produced Pope Julius II's dispensation for her to marry Henry. This put a spanner in the works and caused delays with the case. In the meantime, Campeggio met with Catherine and advised her to join a convent, something which would allow the marriage to be annulled easily. However, Catherine believed that she was Henry's true wife and queen and would not agree to taking the veil. Henry VIII and Wolsey then played dirty, threatening Catherine with separation from her daughter, Mary, if she would not obey the King. Instead of submitting to the King, Catherine fought back by appealing to Rome against the authority of Wolsey and Campeggio to try the case at a Legatine Court. She had the support of the people and men like John Fisher (Bishop of Rochester), Archbishop Warham and Cuthbert Tunstall (Bishop of London).
Campeggio could only stall for so long and formal proceedings finally began on the 31st May 1529 at the Legatine Court at Blackfriars. On the 21st June, Catherine of Aragon gave what David Starkey calls "the speech of her life". She approached her husband, knelt at his feet and gave the following speech in slightly broken English:-
"Sir, I beseech you for all the love that hath been between us, and for the love of God, let me have justice. Take of me some pity and compassion, for I am a poor woman, and a stranger born out of your dominion. I have here no assured friends, and much less impartial counsel… Alas! Sir, wherein have I offended you, or what occasion of displeasure have I deserved?… I have been to you a true, humble and obedient wife, ever comfortable to your will and pleasure, that never said or did any thing to the contrary thereof, being always well pleased and contented with all things wherein you had any delight or dalliance, whether it were in little or much. I never grudged in word or countenance, or showed a visage or spark of discontent. I loved all those whom ye loved, only for your sake, whether I had cause or no, and whether they were my friends or enemies. This twenty years or more I have been your true wife and by me ye have had divers children, although it hath pleased God to call them out of this world, which hath been no default in me… When ye had me at first, I take God to my judge, I was a true maid, without touch of man. And whether it be true or no, I put it to your conscience. If there be any just cause by the law that ye can allege against me either of dishonesty or any other impediment to banish and put me from you, I am well content to depart to my great shame and dishonour. And if there be none, then here, I most lowly beseech you, let me remain in my former estate… Therefore, I most humbly require you, in the way of charity and for the love of God – who is the just judge – to spare me the extremity of this new court, until I may be advised what way and order my friends in Spain will advise me to take. And if ye will not extend to me so much impartial favour, your pleasure then be fulfilled, and to God I commit my cause!"
In this speech, Catherine also reminded Henry that his father, "The Second Solomon", and her father, had considered "the marriage between you and me good and lawful". She ended her speech still on her knees, though Henry had tried to raise her up twice during her speech. She then asked for the King's permission to write to the Pope to defend her honour, which he gave. Catherine then curtseyed and instead of walking back to her seat walked straight out of court, ignoring the crier who called for her to return to her seat. As her receiver general, Griffin Richards, told her that she was being called back, Catherine was heard to reply, "On, on. It makes no matter, for it is no impartial court for me, therefore I will not tarry. Go on." And with that she left the Legatine Court. What a woman!
Over the next month, Henry VIII tried to prove that Catherine had consummated her marriage to his brother, Arthur, but Catherine had already signed protestations of her virginity and Bishop John Fisher shocked the court in his defence of Catherine's virtue, quoting from the Book of Matthew and saying:-
"Quos Deus conjunxit, homo non separet. 'What therefore God has joined together, let not man put asunder.' And, for as much as this marriage was made and joined by God to a good intent, I say that I know the truth; which is that it cannot be broken or loosed by the power of man."
He then said that he was so convinced of Catherine's cause that he would lay down his life for it. Which, of course, he did in the end.
Henry VIII then sent Wolsey and Campeggio to see Catherine, to try and bully her into submission, but this failed miserably. In the meantime, on the 13th July, Pope Clement approved Catherine's appeal, although Catherine was not to hear of this for some time. In desperation, Campeggio tried another stalling tactic, in July 1529 he announced that the court would adjourn until October, for a summer recess due to the fact that it was "reaping and harvesting" time in Rome, a time when courts did not sit. Henry VIII was furious but the Legatine Court was suspended, never to sit again because then the news reached England that Catherine's appeal had been successful. It was a huge blow for Henry, who had expected the court to pass sentence and rule in his favour on the 23rd July.
Henry VIII's marriage to Catherine of Aragon was not annulled until nearly 4 years later, in May 1533 when Archbishop Thomas Cranmer and his court ruled that Henry and Catherine had never been legally married and that the King's marriage to Anne Boleyn, which had taken place in secret on the 25th January 1533, was valid. A pregnant Anne Boleyn was crowned Queen of England just days later.
Sources