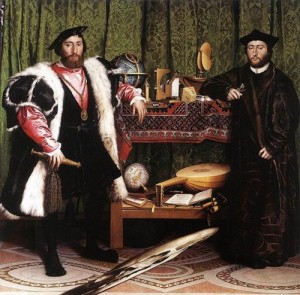 Good Friday 1533 (11th April) was an important day for Anne Boleyn. It was the day on which Henry VIII informed his Council that Anne was his rightful wife and Queen and she should be accorded with Royal honours.
Catherine of Aragon had already been demoted to Dowager Princess of Wales after convocation had ruled that the dispensation allowing Henry VIII to marry his brother's widow should never have been granted. Although Archbishop Cranmer was still organising a special trial into the annulment proceedings, Catherine was out and Anne was in.
You may wonder why I have illustrated this post with Hans Holbein the Younger's "The Ambassadors", an amazing puzzle in a portrait of two ambassadors: Jean de Dinteville, maître d'hôtel to Francis I of France, and George de Selve, Bishop of Lavaur. Well, the date of the 11th April 1533 is recorded in various places in this painting – on the celestial globe, the quadrant and the cylinder sundial – and historian Eric Ives believes that the painting is linked to Anne Boleyn and may even have been commissioned by her.
Clues to the link with Anne Boleyn include:-
The painting was painted when Holbein was working on Mount Parnassus for Anne's coronation.
It was painted at the time when Anne was being recognised as Queen and preparing for her coronation.
The date of the 11th April in the painting which coincides with Anne being recognised as Queen.
The cosmati pavement whic Ives believes to mirror that of Westminster Abbey and "the precise spot where Anne Boleyn was anointed Queen".1
Jean de Dinteville's links with Anne, their shared interest in evangelical reform, in the French 'fashion', and his role at her coronation. Ives ponders if Dinteville is actually depicted in his coronation outfit.
The theme of the painting – Religious division but the hope of unity.
You can read more about Holbein's "The Ambassadors" in the following series of articles:-
Also on this day in history…
Notes and Sources
The Life and Death of Anne Boleyn, Eric Ives, p235