Posted By Claire on April 10, 2020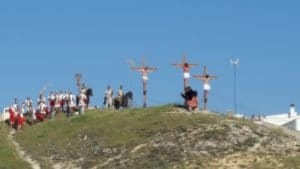 Today is Good Friday, unless you're a member of the Orthodox Churches, the day that Christians around the world remember the crucifixion of Jesus Christ and his sacrifice for us. It is an important day in the church calendar and was also important in Tudor times.
As I have written about it many times over the past few years, I thought I'd share a couple of links with you, along with my video of the Good Friday procession 2019 from my area. If you're a Tudor Society member, you can head over to that site to hear my talk on hot cross buns too!