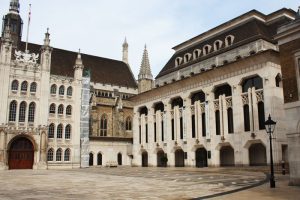 On 1st December 1541, Thomas Culpeper, a member of King Henry VIII's privy chamber, and Francis Dereham, secretary to Queen Catherine Howard, were tried for high treason at Guildhall, London. They had both been linked romantically with the queen.
Eustace Chapuys, the imperial ambassador, recorded that "after a long discussion lasting six hours" the two men were found guilty and sentenced to be hanged, drawn and quartered.
Culpeper and Dereham were executed at Tyburn on 10th December 1541. Culpeper was fortunate in that his sentence was commuted to beheading, but Dereham suffered a full traitor's death.
Also on this day in history, 1st December 1541, Margaret of Austria, Duchess of Savoy, died at Mechelen. You can click here to read more about Anne Boleyn's time at Margaret's court and click here to find out more about Margaret's resting place and see Yann Kergourlay's beautiful photos of it.
Photo: Guildhall, London, copyright Tim Ridgway.