Margaret of Austria and the Royal Monastery of Brou by Yann Kergourlay
Posted By Claire on October 10, 2017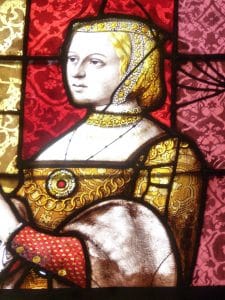 Thank you so much to Yann Kergourlay for writing this article for us today and also for sharing these wonderful photos with us. I really want to visit Brou now!
Over to Yann…
For a long time, I only knew of Margaret of Austria (1480–1530) thanks to short references to her in books about my favourite historical figures: Anne of Brittany and Anne Boleyn. The former had been a rival to Margaret in the European 'matchmaking market' while the latter had been one of her ladies-in-waiting for about a year. That was certainly not sufficient to get a real hold of whom Margaret was, despite the numerous laudatory adjectives associated with her name each time. To this day, only a few books have been written about her. The mere enumeration of the evolution of her status should, however, be enough to spark interest: daughter of an emperor, Queen of France, Princess of the Asturias, Duchess of Savoy and finally Governor of the Habsburg Netherlands. XVth and XVIth century western Europe saw no shortage of remarkable women and Margaret learned from and interacted with a few of them: Margaret of York, Anne of Beaujeu, Isabella of Castile as well as Louise of Savoy. In due time, she was entrusted with the education of her kin, the next generation of Habsburg rulers: Charles V, Mary of Austria, Isabella of Austria, Eleonora of Austria, Margaret of Parma, in addition to John, Dorothea and Christina of Denmark in the last years of her life. While Eleanor of Aquitaine is often referred to as 'Europe's grandmother', Margaret of Austria certainly is worthy of being called Europe's aunt.
This intelligent and capable woman, who ruled the Netherlands and made Charles V's election as emperor happen, adopted a highly reflective and witty stance when choosing her motto: Fortune infortune fort une, translated and understood as 'Fortune demands much of a woman' or 'Both fortune and misfortune make a woman stronger'. There is no place where this motto appears more than in the royal monastery of Brou, an absolute masterpiece of the flamboyant Gothic style.
In December 1501, Margaret of Austria marries Philibert II of Savoy. Is it a match made in heaven? It seems so: they are both twenty-one, in good health and attracted to each other. For three years, all is well, and Margaret gets a taste of happiness… until fate strikes again and Philibert catches a chill which will prove fatal. Aged twenty-four, Margaret is widowed for the second time, decides she will never remarry and adopts her motto 'Fortune Infortune fort une'. She commits herself to the fulfilment of Margaret of Bourbon's vow. While Philibert's mother had sworn to reconstruct the priory of Brou, Margaret chose to enhance the architectural project, creating an impressive ensemble with a church to hold her husband and his mother's tombs as well as three cloisters. On August 27, 1506, Margaret lays down the very first stone of the church. She will never come back, even less see it completed. It is only from afar, mostly Mechelen, that she supervises the construction. In 1509, she expresses her desire to have Brou as her final resting place.
The monumental ensemble was built between 1506 and 1532, in only 26 years. The construction, however, really took off when Loys Van Boghem became master builder in 1513. Despite the influence of the Renaissance spreading throughout Europe at the time, Margaret of Austria clung to the flamboyant Gothic style for Brou. The result is a rather unique sight to behold. The visitor entrance leads right into the first of the three cloisters. Each of these had a specific purpose. The first was meant for Margaret herself and her guests, as she intended to live out her days there. The second, the largest by far, was used by the monks to meditate and exercise while the third, which features a well, served the needs of domestic life (kitchen, food store, infirmary, library). Its first floor now holds a fine arts museum where the famous portrait of Margaret by Van Orley is displayed. Beyond the three cloisters, a unique feature not seen elsewhere in France, the church by itself is enough to warrant a visit. Contrary to most churches associated with royalty and the Ancien Régime, it was not harmed during the Révolution, despite the monks being sent away at the time. Besides, mass was never held there for laics as Margaret, had she wanted the monks to pray continuously for the souls of her mother-in-law, her husband and herself. Entering the church, one can admire the rood screen which supports the gallery corridor linking Margaret's oratory to her apartments in the first cloister.
On the north end of the chancel is Margaret's chapel where an impressive altarpiece made from alabaster by Flemish workshops catches the eye, representing the seven joys of the Virgin. In the centre of it, the assumption of the Virgin includes a portrait of Margaret praying. A beautiful stained glass window vividly shows Margaret and Philibert praying alongside their respective patron saints. The chancel harbours the three mausoleums. Protected in a niche, Margaret of Bourbon's recumbent statue has her head tilted to her right, towards the centre where her son Philibert lies. There are two recumbent statues in the mausoleum: the upper being him in ceremonial attire, the lower him in a state of pious undress, awaiting resurrection. Both lock eyes with Margaret's, which follow the same composition but benefit from the presence of a canopy. All three mausoleums are lavishly carved with symbols and decorated with female statues: sibyls around Philibert, saints around both Margarets. The iconography spread all over the church includes elements such as daisies (as a daisy is called une marguerite in French), the Savoy coats-of-arms, Margaret's motto and lovers' knots binding Margaret and Philibert's monograms together. It is said that each of the latter is different from one another, displaying the uniqueness of their love.
The whole monument is in their image and a testimony to Margaret's life, her influence and taste as a patron of the arts. I really do hope this article and these few photographs will inspire you to go if you can, there's even more to see than what is shown here. Feel free to ask questions in the comments if you have some!
Click on the images to see larger versions:
Notes and Sources
Soisson, Jean-Pierre (2005) Marguerite, Princesse De Bourgogne, Librairie generale francaise.
The information panels in Brou.