Claude, Queen of France
Posted By Claire on October 13, 2017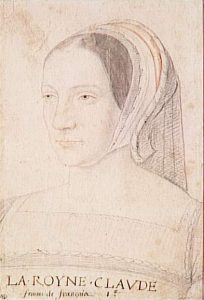 Today is the anniversary of the birth of Claude, Duchess of Brittany and Queen of France, on 13th October 1499 in Romorantin-Lanthenay.
Claude was the eldest daughter of Louis XII of France and Anne of Brittany, and she became Queen of France after the death of her father in January 1515 when her husband, Francis, Duke of Angoulême, who had been named Louis' heir, became King Francis I. She bore Francis seven children, including King Henry II of France, but died at the age of just twenty-four in July 1524.
You can click here to read more about her and her link to Anne Boleyn.
I just wanted to share with you this beautiful portrait that I saw in the Pushkin State Museum of Fine Arts in Moscow this summer. It used to be known as "Claude of France" but is now known as "portrait of an unknown woman" and it's by Corneille de Lyon. I don't know who it is, but it is stunning; tiny, but stunning. I was very drawn to it!