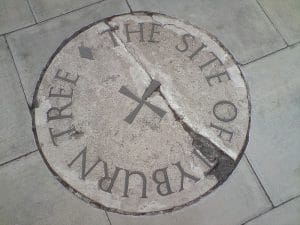 On this day in history, 10th December 1541, Thomas Culpeper, a gentleman of King Henry VIII's privy chamber, and Francis Dereham, secretary to Queen Catherine Howard, were executed for treason at Tyburn.
Both had been found guilty of high treason for their relationships with the queen at their trial on 1st December 1541 and had been sentenced to a full traitor's death, i.e. being hanged, drawn and quartered. Culpeper was 'lucky' in that his sentence was commuted to beheading, but Dereham was "hanged, membered, bowelled, headed, and quartered" , a truly horrific death.
Picture: Stone marking the site of the Tyburn Tree, i.e. the gallows, on the traffic island at the junction of Edgware Road, Bayswater Road and Oxford Street (Wikipedia).