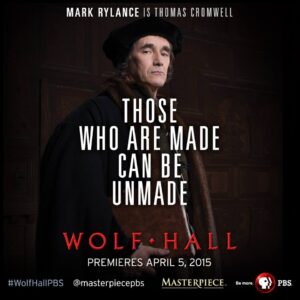 Wolf Hall starts tonight in the US on PBS Masterpiece so over the next few weeks I'm going to be publishing some articles on the real historical characters and events featured in the TV series and the books by Hilary Mantel that it's adapted from.
But, for now you can read more about some of the main characters in my article Wolf Hall – The Real Cast and in the following 'glossary', which focuses on the characters and events of Wolf Hall in the 1520s and 1530s:
Main characters
Thomas Cromwell (c.1485-1540) played by Mark Rylance – Thomas Cromwell rose from humble beginnings in Putney as the son of "a poor blacksmith" to be Henry VIII's right hand man. In the 1530s he served as Henry VIII's Chancellor of the Exchequer, Master of the Rolls, Secretary, Lord Privy Seal, Lord Great Chamberlain and Vicegerent in Spirituals. He was made Earl of Essex shortly before his fall in 1540.
Henry VIII (1491-1547) played by Damian Lewis – Henry VIII became king on the death of his father Henry VII in April 1509 and ruled until his own death in January 1547. He married Catherine of Aragon in June 1509 but began annulment proceedings in earnest by early 1528 due to his concerns over the validity of the marriage and his desire to marry Anne Boleyn. He married Anne Boleyn in January 1533.
Anne Boleyn (1501/1507-1536) played by Claire Foy – Anne Boleyn was the daughter of Thomas Boleyn, a favourite courtier and trusted diplomat of Henry VIII, and his wife Elizabeth Howard, daughter of Thomas Howard, 2nd Duke of Norfolk. It appears that she came to Henry VIII's notice in around 1526 and that he wooed her with love letters and gifts throughout 1527 and 1528. Anne rebuffed the King a number of time but he would not give up and he offered her marriage in the summer of 1527. Anne agreed. She was crowned queen on 1st June 1533 and gave birth to a daughter, Elizabeth, in September 1533. She was executed on 19th May 1536 after being found guilty of treason. The majority of historians believe that she was innocent.
Thomas Boleyn (c.1477-1539) played by David Robb – Thomas Boleyn was the son of Sir William Boleyn, son of Geoffrey Boleyn Lord Mayor of London, and Lady Margaret Butler, daughter of Thomas Butler, 7th Earl of Ormonde. Before either of his daughters became involved with Henry VIII, he was a royal favourite and had undertaken several embassies, as well as being in charge of looking after Margaret Tudor, Henry VIII's sister, on her visit to England in 1517. In 1522 he was made Treasurer of the Household, in 1525 he was made Lord Rochford and then in 1529 he became Earl of Wiltshire. He was also appointed Lord Privy Seal after the fall of Cardinal Wolsey in 1530.
Thomas Howard, 3rd Duke of Norfolk (1473-1554) played by Bernard Hill – Norfolk, brother-in-law to Thomas Boleyn, was a prominent Tudor politician, nobleman and soldier. He succeeded his father as Duke of Norfolk in 1524 and became one of Henry VIII's leading councillors after the fall of Cardinal Wolsey. He was made Earl Marshal of England in 1533.
Thomas More (1478-1535) played by Anton Lesser – Sir Thomas More, lawyer, statesman, author and humanist, served Henry VIII as a secretary and councillor before becoming his Lord Chancellor in 1529 following the fall of Cardinal Wolsey. He campaigned against the Reformation and heresy, producing scholarly works against Luther's writings and persecuting people who he perceived as heretics. His refusal to swear his allegiance to the Act of Succession led to his downfall and subsequent execution.
Stephen Gardiner, Bishop of Winchester (c.1483-1555) played by Mark Gatiss – Stephen Gardiner was not only a bishop, he served Cardinal Wolsey as a secretary and then Henry VIII as a diplomat and secretary. He was an expert on canon law and so was used by Wolsey and the King on diplomatic missions to try and get the case for Henry VIII's annulment heard in England.
Eustace Chapuys (c.1490/1492-1556), imperial ambassador, played by Mathieu Amalric – Eustace Chapuys joined the imperial service in 1527 and arrived in England in September 1529 to begin working as Catherine of Aragon's adviser in negotiations regarding the annulment. He was her link to the Emperor and to Rome.
Catherine of Aragon (1485-1536) played by Joanne Whalley – Catherine was the daughter of Isabella I of Castile and Ferdinand II of Aragon and was Henry VIII's queen consort from 1509 until their marriage was annulled in 1533. She was also the mother of Mary I. Catherine claimed that her marriage to Arthur Tudor, Prince of Wales and Henry VIII's older brother, had not been consummated and that her marriage to Henry VIII was legal and valid. She fought the annulment and never accepted it or the title of Princess Dowager. She died a natural but lonely death, having been banished from court and prohibited from seeing her daughter, in January 1536.
Thomas Wolsey, Cardinal (c.1473-1530) played by Jonathan Pryce – Cardinal Wolsey rose from humble beginnings as the son of a butcher of cloth merchant in Ipswich, Suffolk, to become Henry VIII's Lord Chancellor and a cardinal in 1515. He had a talent for diplomacy, negotiating a number fo treaties, but was unable to secure an annulment for Henry VIII. His failure led to his downfall and he died on his way to London in 1530 to answer charges of praemunire.
Ralph Sadler (1507-1587) played by Thomas Brodie-Sangster – Sadler grew up in the household of Thomas Cromwell and served Cromwell as secretary. By Anne Boleyn's downfall in May 1536, he was serving Henry VIII as a Gentleman of the Privy Chamber.

Gregory Cromwell (c.1520-1551) played by Tom Holland – Gregory was the only son of Thomas Cromwell and his wife Elizabeth Wyckes. He was educated at Cambridge and appears to have been a capable scholar.
'Harry' Percy, or Henry Percy, 6th Earl of Northumberland (c.1502-1537) played by Harry Lloyd – Henry Percy was the son and heir of Henry Algernon Percy, 5th Earl of Northumberland. He met Anne Boleyn while he was serving in Cardinal Wolsey's household and she was serving Catherine of Aragon. They began a relationship and intended to marry. However, their relationship was broken up by Cardinal Wolsey and Percy's father and Percy was married off to Mary Talbot, daughter of George Talbot, 4th Earl of Shrewsbury. According to Wolsey's usher, George Cavendish, Henry VIII ordered Wolsey to break up the relationship but Anne Boleyn blamed Wolsey and threatened "that if it lay ever in her power, she would work the cardinal as much displeasure".
Jane Boleyn (c. 1505-1542) played by Jessica Raine – Jane was the daughter of Henry Parker, the 10th Baron Morley. She married George Boleyn, Anne Boleyn's brother, in late 1524 or early 1525, and served as a member of Anne Boleyn's household. It is often said that her marriage to George was unhappy, but there is no evidence for this.
Johane Williamson, sister of Cromwell's wife Elizabeth and wife of John Williamson, played by Saskia Reeves.
Elizabeth Cromwell, wife of Thomas Cromwell, played by Natasha Little – Elizabeth was the daughter of Henry Wyckes, a clothier form Putney, and the widow of Thomas Williams, a Yeoman of the Guard. She married Thomas Cromwell in around 1515 and the couple had three children: Gregory, Anne and Grace. Elizabeth died in 1528.
Mary Boleyn, sister of Anne Boleyn (c.1499/1500-1543) played by Charity Wakefield – Mary Boleyn was the eldest daughter of Thomas Boleyn and the sister of Anne Boleyn and George Boleyn. At some point, she had a sexual relationship with Henry VIII but married William Carey, a member of the King's Privy Chamber, in 1520. She had two children in the 1520s, Henry and Catherine. She was widowed in 1528 and went on to marry William Stafford in secret in 1534, leading to her being banished from court by her sister the queen.
Richard Cromwell (c.1502-1544) played by Joss Porter – Richard was born Richard Williams and was the son of Thomas Cromwell's sister Katherine and her husband Morgan Williams. He was introduced into Henry VIII's court by his uncle.
George Boleyn (c.1504-1536) played by Edward Holcroft – George was the only surviving son of Thomas Boleyn and the brother of Anne and Mary Boleyn. He was a courtier, poet, diplomat, royal favourite and member of the King's privy chamber. George was influential in Parliament and carried out many important diplomatic missions on behalf of the King. He was executed in May 1536 after being accused of committing incest with his sister the queen and of plotting to kill the king. It is now believed that he was innocent.
Thomas Wriothesley, known as "Call me Risley" in the books, (1505-1550), played by Joel MacCormack – Wriothesley served Stephen Gardiner as joint clerk of the signet and as a secretary to Henry VIII.
Charles Brandon, Duke of Suffolk (c.1484-1545) played by Richard Dillane – Charles Brandon was one of Henry VIII's best friends. He was born circa 1484 to Sir William Brandon and Elizabeth Bruyn, and his father died carrying Henry VII's standard at the Battle of Bosworth in 1485. He was forgiven for marrying the King's favourite sister, Mary Tudor, Queen of France, in 1515, without the King's permission. The couple had four children: Henry, Frances, Eleanor and a second Henry after the death of their first son. Mary died in June 1533 and their second son died in 1534. Brandon married for the fourth time in September 1534; his new wife was his 14 year old ward, Catherine Willoughby. Brandon had poor relations with Anne Boleyn, his sympathy being with Catherine of Aragon.
Henry 'Harry' Norris (late 1490s-1536) played by Luke Roberts – Sir Henry Norris was the son of Richard Norris. He married Mary Fiennes sometime before 1526 and the couple had three children before Mary's death c.1530. Norris was Henry VIII's Groom of the Stool and was one of the King's best friends. By 1536, he was courting Anne Boleyn's cousin, Margaret Shelton. He was executed in 1536 after being found guilty of sleeping with Queen Anne Boleyn and plotting against the King.
Jane Seymour (c.1508/9-1537) played by Kate Philipps – Jane Seymour was born in 1508 or 1509, probably at the family seat, Wolf Hall in Wiltshire. She was the daughter of Sir John Seymour, soldier and courtier, and of Margery Wentworth. Like all of Henry VIII's wives, she was descended from Edward III. It is thought that she arrived at court around 1529. She served Catherine of Aragon and then Anne Boleyn as a lady-in-waiting. Her brothers, Edward and Thomas Seymour, were on the rise in the 1530s and it is thought that they and Sir Nicholas Carew coached Jane to appeal to the King.

Thomas Cranmer, Archbisop of Canterbury (1489-1556), played by Will Keen – Thomas Cranmer was born in Nottinghamshire in 1489 to Thomas and Agnes Cranmer. From 1527 he was involved involved in the proceedings to get Henry VIII's first marriage to Catherine of Aragon annulled. He was consecrated as Archbishop of Canterbury on 30th March 1533 and opened a special court for the annulment proceedings on 10th May 1533. On 23rd May, Cranmer ruled that the marriage between Henry VIII and Catherine of Aragon was against the will of God, the marriage was declared null and void. Five days later, on 28th May, Cranmer declared the marriage between Henry VIII and Anne Boleyn valid and on the 1st June he crowned Anne Boleyn Queen of England. In September 1533, he had the pleasure of baptising the couple's daughter, Elizabeth, and becoming her godfather.
Francis Weston (c.1511-1536) played by Jacob Fortune-Lloyd – Francis Weston was the son of Sir Richard Weston and Anne Sandys, a former lady-in-waiting to Catherine of Aragon. He became a Gentleman of the Privy Chamber in 1532 and was a popular courtier and member of the Boleyn circle. He was executed in 1536 after being found guilty of sleeping with Queen Anne Boleyn and plotting against the King.
Mark Smeaton (d.1536) played by Max Fowler – Mark was a talented musician who had been a member of Cardinal Wolsey's choir before joining the King's Chapel Royal. He became a Groom of the Privy Chamber in 1529 and was a member of the Boleyn circle. He was executed in 1536 after being found guilty of sleeping with Queen Anne Boleyn and plotting against the King.
William Brereton (c.1487/90-1536) played by Alastair Mackenzie – William Brereton was the sixth son of a leading, landowning Cheshire family and himself became an important man in Cheshire and North Wales. He was married to Elizabeth Savage, daughter of Charles Somerset, 1st Earl of Worcester. He had a colourful reputation and was not a member of the Boleyn circle of friends. He was executed in 1536 after being found guilty of sleeping with Queen Anne Boleyn and plotting against the King.
>Elizabeth Barton (c. 15066-1534) played by Aimee-Ffion Edwards – Elizabeth Barton, known as "the Nun of Kent" or "the Holy Maid of Kent" was a servant girl who became a religious visionary in around 1525. She was working in a household in Aldington, Kent, when she was taken ill and fell into trances where she had visions which were "of marvellous holiness in rebuke of sin and vice". She became a Benedictine Nun and became famous for her visions and prophecies, corresponding with the likes of Sir Thomas More and Bishop John Fisher. However, she went from a harmless nun to a threat to Henry VIII when she began prophesying against his planned annulment and his relationship with Anne Boleyn. She was hanged at Tyburn on 20th April 1534. Click here to read more about her.
Events and topics
You can find out more about the locations used for filming at http://www.bbc.co.uk/programmes/articles/3LnHj2K1xnzQmGmjqBrtnz0/wolf-hall-the-locations and http://www.nationaltrust.org.uk/article-1355870235583/
Do let me know if there's anything else you'd like me to explain or cover.
P.S. If this post makes no sense whatsoever or it's full of mistakes then I do apologise. I've got a cold and my brain is just mush at the moment!