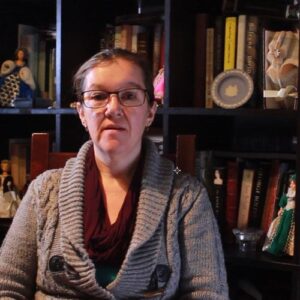 And now for a shameless plug – it is my blog after all! My new online course "The Life of Anne Boleyn" launches on 30th January, in just two weeks!
I've been a bit quiet recently on this blog and social media because I've been busy recording the video lessons for the course. It's quite a challenge when you have pets. Our kittens keep trying to get their 15 seconds of fame by walking across the camera and then our dogs will suddenly bark at something or decide that they want some attention too! Then there are the fits of giggles I sometimes have or all of the saliva suddenly disappearing from my mouth and leaving me unable to get a word out! I'm getting there, though!
"The Life of Anne Boleyn" is completely online. It comprises video lessons with downloadable audio and transcripts, quizzes after each module, a bibliography and further reading list, and resources which I think will be helpful for you. It is open internationally, and participants have lifetime access so you can start it and finish it whenever you like. It's available to purchase now from MedievalCourses.com at a special pre-order price of $35 (RRP $75), and each participant receives the audiobook version of my book The Fall of Anne Boleyn: A Countdown.
There may actually be more than 15 video lessons as I just can't stop talking about Anne Boleyn! The late historian Eric Ives once said at a talk that he could talk about Anne Boleyn "until the cows come home" and I'm exactly like that. You just can't shut me up! I'm enjoying them so much, and I hope you do too. You can find out more about the course at https://medievalcourses.com/overview/life-anne-boleyn-mc06/ and you can use discount code ABPRE to sign up for $35.