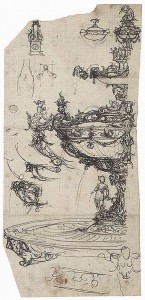 Happy New Year to you! I hope you had a wonderful Christmas and that 2017 brings you all that you could wish for! Thank you for following the Anne Boleyn Files, it means so much to me.
Now, as I've explained before – click here – the 1st January was not the start of the new calendar year in medieval and Tudor times, their calendar actually began on Lady Day, also known as the Feast of the Annunciation of the Blessed Virgin, which was on 25th March. However, the Roman tradition of the New Year on 1st January was celebrated at the Tudor court with courtiers giving the monarch gifts and the monarch reciprocating.
You can read all about the New Year's gifts that were exchanged between Henry VIII and Anne Boleyn in my 2014 New Year article – click here.
In January 1541, Katherine Howard, Henry VIII's fifth wife, gave New Year's gifts to Mary and Elizabeth, her stepdaughter, and also to her favourites: Lady Baynton, Lady Surrey, Lady Rutland, Lady Margaret Douglas and "to the Lady Carew, late Mrs. Norrys, against her marriage". You can read more about Mary Norris, Lady Carew, in Teri Fitzgerald's article in the January 2017 edition of Tudor Life magazine, it is in the free sample so everyone can read it – click here.
Also on this day in history… (click on links to read more)