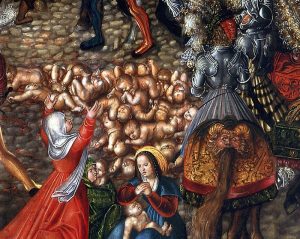 Today, 28th December is Holy Innocents' Day or Childermas (Children's Mass). It was part of the Twelve Days of Christmas in Tudor times and commemorated the massacre of the baby boys which King Herod ordered in Bethlehem, in an attempt to kill the infant Jesus Christ.
The story of the massacre is told in the New Testament, in the Gospel of Matthew. King Herod asked the 'Wise Men' to go and search for the Christ child and then to return to him: "Goo and searche dyligetly for ye chylde. And when ye have founde hym bringe me worde yt I maye come and worshippe hym also." Of course, he had no intention of worshipping this threat to his authority. The Wise Men were warned in a dream not to return to Herod: "And after they were warned of God in a dreame that they shuld not go ageyne to Herod they retourned into their awne countre another waye."
An angel of the Lord appeared to Joseph in a dream, telling Joseph to take Mary and Jesus into Egypt and to live there until the angel brought word "For Herod will seke the chylde to destroye hym". As soon as Joseph awoke from his dream, the family fled to Egypt.
The came the massacre, which Matthew tells us fulfilled the prophecy of Jeremiah:
"Then Herod perceavynge yt he was moocked of the wyse men was excedynge wroth and sent forth and slue all the chyldren that were in Bethleem and in all the costes there of as many as were two yere olde and vnder accordynge to the tyme which he had diligetly searched oute of the wyse men. Then was fulfilled yt which was spoken by the Prophet Ieremy sayinge: "n the hilles was a voyce herde mornynge wepynge and greate lamentacion: Rachel wepynge for her chyldren and wolde not be conforted because they were not."
On 28th December 1534, Childermas, a carol written by Robert Croo and now known as the Coventry Carol was performed in the city of Coventry in the mystery play called "The Pageant of the Shearmen and Tailors". The carol referred to the massacre in one of its verses:
"Herod the King, in his raging,
Charged he hath this day;
His men of might, in his own sight,
All children young, to slay."
Here is a video which has the Coventry Carol being performed by the choir of King's College, Cambridge:
https://youtu.be/UFnM8pSsyUU
By the way, the Bible quotations I have used in this article come from William Tyndale's New Testament and I thought they were appropriate here because we know that Anne Boleyn used his New Testament translation.
Picture: Detail from "The Massacre of the Innocents" by Lucas Cranach the Elder (c. 1515), National Museum in Warsaw, from Wikipedia.