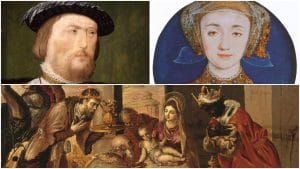 Today, 6th January, is Epiphany, the feast day celebrating the visit of the Magi to the Christ Child, and a day which brought the Twelve Days of Christmas to a close in medieval and Tudor England.
Epiphany at the royal court was celebrated with feasting and pageantry, and you can find out all about it in a video I've just made for the Tudor Society. I've made this weekly video chat available to all in celebration of Epiphany and I do hope you enjoy it. Click here to view it now.
The 6th January was also a wedding anniversary for King Henry VIII, one that he would want to forget about. It was on this day in 1540 that he married Anne of Cleves in the Queen's closet at Greenwich Palace.The King wore a gown of cloth of gold lined and the bride was "apparelled in a gowne of ryche cloth of gold set full of large flowers of great & Orient Pearle, made after the Dutche fassion rownde", with her long blonde hair loose, a gold "coronall" on her head, which was set with a large precious stone and decorated with branches of rosemary, and jewels around her neck and waist.
The couple were married by Thomas Cranmer, Archbishop of Canterbury, and the ceremony was followed by a banquet, a masque and other entertainment.
Click here to read more about the wedding and their short-lived marriage.
Also on this day in history, 6th January 1536, Maria de Salinas arrived at the dying Catherine of Aragon's bedside at Kimbolton Castle to be with her friend in her last hours – click here to read more about the two women's friendship.