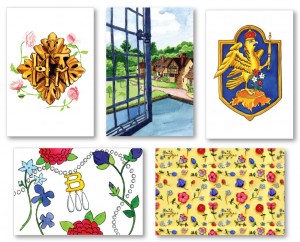 Natalie, a friend of mine over at On The Tudor Trail website, has recently introduced some beautiful greetings cards, created by artist Kate Holeman using watercolour and ink on paper.
Each card is printed in 4 colour on 300gsm Tudor stock (100% recycled & uncoated). They are blank inside and so can be utilised for a variety of occasions.
The folded card size is 150mm x 102mm. Sold in sets of 5; each card set includes 5 cards (See images for the available designs) and 5 C6 white envelopes. Each set is packaged in a resealable bag.
They really are beautiful and are perfect for Anne Boleyn and Tudor lovers. They cost $15.95 AUS (Australian dollars) for a set of 5 cards with 5 envelopes and can be purchased at http://onthetudortrail.com/Blog/products/anne-boleyn-inspired-greeting-cards/