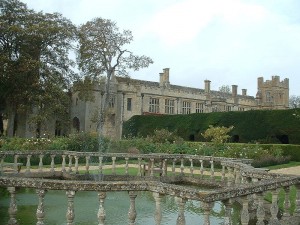 Thanks so much to author Susan Higginbotham for pointing this History Today article out, I don't know how I missed it!
In the article entitled "Point of Departure: An Unfit Traveller", historian Linda Porter writes about the fate of Mary Seymour, daughter of Catherine Parr and her fourth husband, Thomas Seymour, and attempts to solve the puzzle of what happened to Mary.
As I have written before, Mary Seymour, who was born on 30th August 1548, disappears from the records at around the age of two. Mary's mother, Catherine Parr, died of puerperal fever on the 5th September 1548, just six days after the birth of Mary, and Mary's father, Thomas Seymour, was executed as a traitor on the 17th March 1549 leaving Mary orphaned at the age of just 7 months. We know that Catherine Parr's friend, Catherine Brandon (née Willoughby), the Duchess of Suffolk, was appointed as Mary's guardian because she appealed to William Cecil to talk to the Duke of Somerset about helping her with the upkeep of Mary's household, which was the household of a Queen's daughter and therefore very expensive to run. The Duchess must have been very relieved in January 1550 when an act of Parliament allowed Mary to inherit her father's property – money would be forthcoming at last.
But that is the last we hear of little Mary Seymour, who would have been around 16 months old when she was allowed to inherit Thomas Seymour's remaining property. She just disappears from the records and never claimed her inheritance. What happened to the little girl has always been a mystery up until now, but Linda Porter writes of a poem that might just tell us the fate of Catherine Parr's daughter.
The poem, from a Latin book of poem and epitaphs written By Catherine Parr's chaplain, John Parkhurst, in 1573, reads as follows:
"I whom at the cost
Of her own life
My queenly mother
Bore with the pangs of labour
Sleep under this marble
An unfit traveller.
If Death had given me to live longer
That virtue, that modesty, That obedience of my excellent Mother
That Heavenly courageous nature
Would have lived again in me.
Now, whoever
You are, fare thee well
Because I cannot speak any more, this stone
Is a memorial to my brief life."
Linda Porter is of the opinion that, although no name is given, "this must surely be the epitaph that Parkhurst, who would have known Lady Mary Seymour, wrote on her death". Who else could it refer to really? Linda Porter concludes her article by saying:-
"It suggests, as has long been conjectured, that she died young, probably around the age of two. She may well be buried in Lincolnshire, near Grimsthorpe, the estate owned by the Duchess of Suffolk, where she had lived as an unwelcome burden for most of her short, sad life."
I find Catherine Parr's story a sad one. She had finally married the man she loved only to die shortly after their daughter's birth and then Thomas Seymour, without Catherine's steadying influence, went and got himself executed as a traitor, leaving this little girl with no parents and living with a woman who really didn't want her! Then to think that little Mary had such a short life! Very sad.
You can read Linda's very interesting article at http://www.historytoday.com/linda-porter/lady-mary-seymour-unfit-traveller and I would highly recommend Linda's biography of Catherine Parr, Katherine the Queen: The Remarkable Life of Katherine Parr, the last wife of Henry VIII. Also check out the guest article Linda wrote for us – Last But Not Least: The Enduring Fascination of Katherine Parr