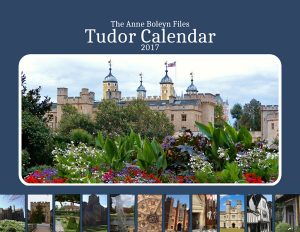 A few weeks ago I launched our annual photography competition and just wanted to write this post to remind you to remember to get snapping over the summer.
What is this competition? I hear you ask. Well, each year we produce The Anne Boleyn Files Tudor Calendar. This is a printed wall calendar and each month features a Tudor-themed photograph taken by an Anne Boleyn Files follower – on the right, you can see last year's calendar. Photos are chosen by a panel of judges from entries to our annual photography competition, so if you fancy being featured in our 2018 calendar you need to enter.
You don't even need to live in the UK! It just has to be Tudor-themed.
Click here for all the details, rules and how to enter.