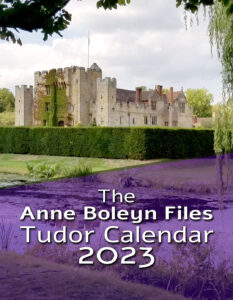 I promised I'd update you on The Anne Boleyn Files Tudor Calendar 2023 and the good news is that it's now available to order on Amazon.com and is rolling out to the other Amazon international sites – hurrah!
You can see it now (or very soon) on your country's Amazon site at https://mybook.to/anneboleyncalendar
Here are the details:
The Anne Boleyn Files Tudor Calendar 2023 is printed in stunning full colour. It has the 12 winning photos from the Anne Boleyn Files photographic competition. The Tudor history-themed photos include:
The Tower of London
Eltham Palace
Rievaulx Abbey
Hever Castle
Little Moreton Hall
Hampton Court Palace
Anne Boleyn's famous inscription
An Anne Boleyn re-enactor
An embroidery of King Henry VIII and his six wives.
The Anne Boleyn Files Tudor Calendar 2023 also features important dates related to the Tudors, such as births, deaths, marriages and coronations, so you'll know what happened in history 500 years ago. The calendar is a celebration of all things Tudor.

Publisher: ‎ MadeGlobal Publishing (19 Oct. 2022)
Language: ‎ English
Paperback: ‎ 34 pages
ISBN-10: ‎ 8412595319
ISBN-13: ‎ 978-8412595314
Dimensions: ‎ 20.32 x 0.23 x 25.4 cm
RRP:
United States $10.99
United Kingdom £9.99
European Union €9.99
Canada $12.99
Australia $14.99