Posted By Claire on October 27, 2022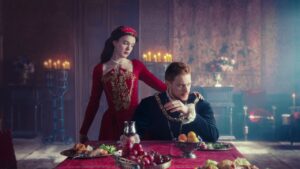 Netflix have just announced a new series, "Blood, Sex & Royalty". According to Netflix, it will be "A modern take on the British royal drama" and they go on to say that "this steamy series offers a window into the lives of history's deadliest, sexiest and most iconic monarchs."
The first one in this series of biographical documentaries, which will be docu-dramas, will look at Anne Boleyn and Henry VIII.
I was involved in some of the initial research, but not with the filming, so I can't give you any more details, I'm afraid. However, I do know that Dr Owen Emmerson, Dr Lauren Mackay, Dr Suzannah Lipscomb and Dr Tracy Borman all feature in it.
It starts on 23rd November.
The series link is https://www.netflix.com/title/81498384