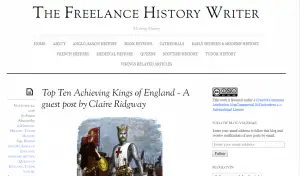 It's day 3 of my book tour for the paperback version of Illustrated Kings and Queens of England and I'm over at Susan Abernathy's blog, The Freelance History Writer, discussing monarchs who should be remembered for their achievements in my article "My Top Ten Achievers".
Click here to visit it now.
MadeGlobal Publishing is giving away a copy of my book at each stop and today I'd love it if you could pop over to my article at Susan's blog and leave a comment sharing who you'd choose as your top achieving monarch(s) and why. One comment will be picked as the winner.