Posted By Claire on November 22, 2016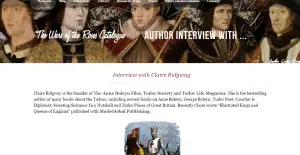 Today as part of my book tour for the paperback version of Illustrated Kings and Queens of England, I'm being interviewed by my friend Debra Bayani.
Get a sneak peek into my life and the challenges of working with a kitten sprawled across your desk over at Debra's blog – click here. There's also a giveaway of my book, just follow Debra's instructions. Good luck and thank you for following me around on this tour.